Don't Make These 7 Mistakes During An Interview Process
January 5th, 2023 | 8 min. read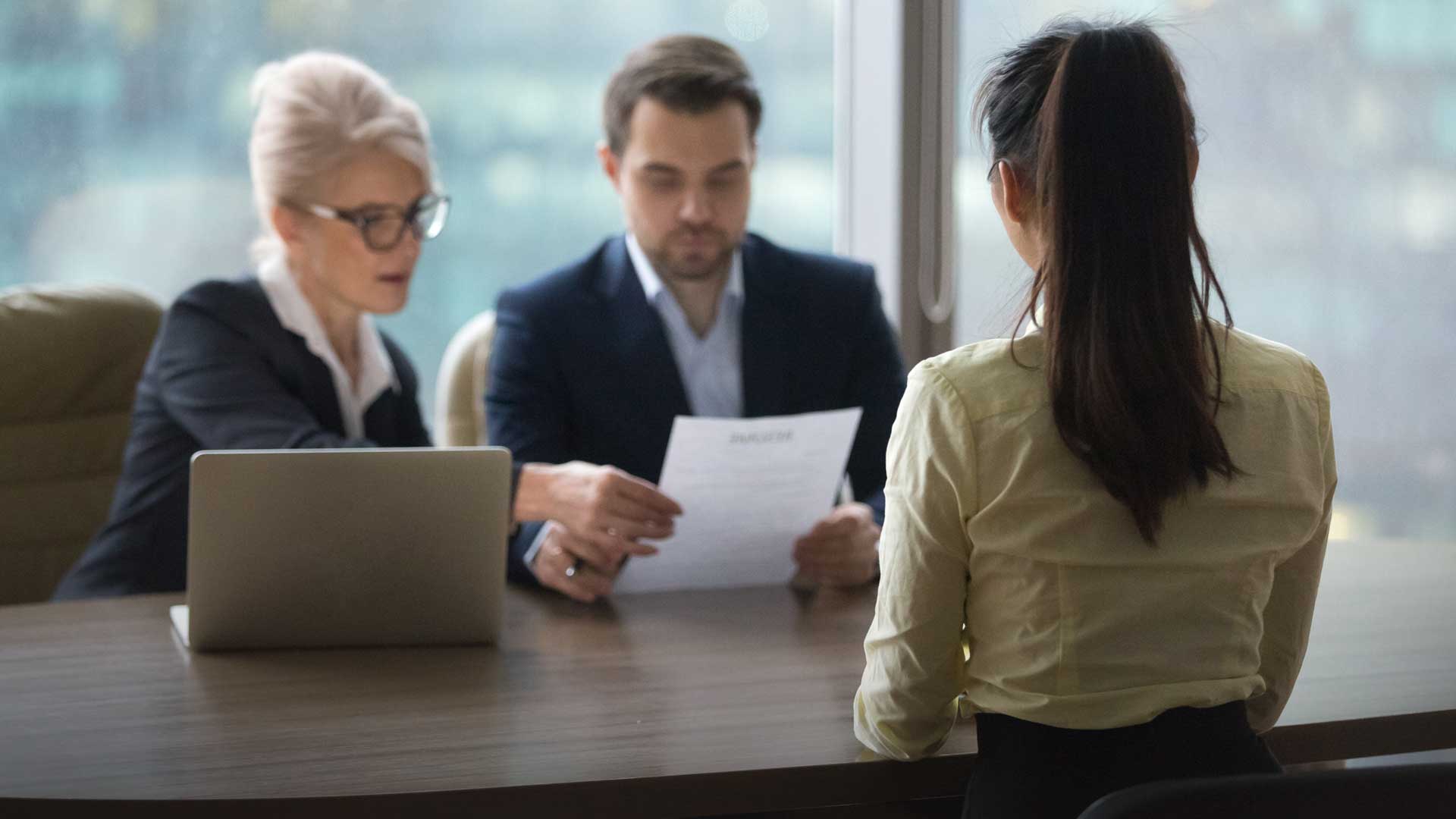 Have you ever walked away from a job interview thinking you've nailed it, only to receive a notification that you did not make the next steps in the hiring process? Or worse yet, radio silence? It's an understatement to say that being rejected doesn't feel good.

Questions about what went wrong and how this could happen probably popped into your mind with limited to no feedback about how to improve.

Being left wondering why is one of the worst feelings in the world, but there are ways to increase your chances of making it to the next steps in the hiring process and landing your dream job.

At AIS, we've noticed some candidates make common mistakes while interviewing that may lead them to be passed over. To help you through the selection process, we've compiled a list of common mistakes and how to avoid them or flip them to your advantage over other candidates.

If you're interested in joining the AIS team, apply now and avoid these seven mistakes:
Top 7 Mistakes Not to Make During An Interview Process
Interviewing can feel a bit scary and intimidating, and sometimes we make mistakes while talking to a potential employer we don't mean to make. Here are some helpful tips to avoid making some of these mistakes. Doing so will help you ace your interview with us or any other company!
Mistake #1: Being Withdrawn or Withholding Pertinent Information
While there are things you don't need to disclose during the interview process, like protected categories (Race, Disability, Religion, etc.), not giving explanations for other information may hurt you. Each response you give is your time to shine and explain why you are the best fit for the position.

For example, if asked, "What is the one superpower that makes you stand out from everyone else?" Don't just state a superpower; give an example of using that superpower. Just stating that your superpower is being highly analytical, a perfectionist, or a team player does not say much. Our definition of each word could differ from yours, and you don't stand out from other candidates who might say the same superpower.

Instead, stating that your superpower is that you're highly analytical and then giving an example, such as "being able to find patterns within financial statements that led to a 5% reduction in operating cost for X company", gives us a better idea of what makes you stand out.

This also allows you to show us the benefit of hiring you rather than just answering a question we asked.
Mistake #2: Giving Inaccurate or Conflicting Information
Double-check your resume, CV, and other information you provide for any mistakes on dates, job duties, or titles. Correct the data immediately if it is incorrect—hopefully before applying.

Waiting until a phone screen or in-person interview to explain that the dates you worked at X company are off by three months can be worse than having a three-month gap between jobs.

Also, accuracy is extremely important when our HR team validates employment dates with previous employers. It's better to be upfront about any issues or changes as it shows integrity—one of our core values. One way we evaluate candidates is if they fit our core values, so show us that Integrity.

If you don't catch the mistake until the phone screen, let us know at that point. The sooner the error is identified, the better.

Related Article: Best Practices to Create Great Company Culture At Any Business.
Mistake #3: Timeliness and Ghosting
Just like you don't like hearing crickets from potential employers, we don't like hearing crickets from potential employees. If you can't make a phone screen or interview time or are going to be late, let the employer know.

Rescheduling doesn't typically penalize you. Candidates are more appreciated if they inform the employer that they need to reschedule as soon as they know they can't make the agreed-upon time.

Being late also shows a lack of courtesy and gives the impression that you don't care about the job. If you don't care enough to be on time, how can an employer count on you to be on time for customers or future co-workers?

We also greatly appreciate candidates that get back to us promptly. If we give you "homework" to complete, holding off on doing it for a week without alerting us of a potential issue like a work conference or being out of the country does not get you brownie points.

Responsiveness is a critical component of being an AIS employee. We value responsiveness because our goal is to quickly resolve customers' needs. So, complete the "homework" promptly. This will also reduce the time you wait to find out if you made it to the next steps in the process.

If there is an issue where you won't be able to get something done quickly, let us know. Communication is vital and shows that you are interested in the job and engaged in the process. Even being delayed a week from submitting the "homework" is okay if you let us know.

Finally, only apply if you are genuinely interested in the job. Not responding to our calls or emails (aka ghosting us) means you will not get the job.
Mistake #4: Not Doing Research
Sending out applications to many companies is a good thing. The issue for us comes when no research is done about the company.

At AIS, we typically schedule phone screens after reviewing resumes and other documents uploaded during an application. When scheduling, we let you know when to expect our call (i.e., Tuesday at 3 PM) and give a link to our website for you to learn more.

We will ask what you know about AIS and want to hear what research you did.
If you don't do your research or confuse us with another company, this shows us that you are not intentional about joining a quality organization and are only needing any job.

Doing due diligence on the company you applied with will help you learn about the type of culture the company offers. A company with great culture will reflect that through their online reputation—and it's best to know they have a great culture versus a possible toxic one.

You should know some of the basics of AIS, such as the products we offer, our locations, our culture, and our core values. Learning the answer to even just one of these categories puts you ahead of someone who has not done their due diligence.

Also, look over the job description before applying. We include some of the goals that performance will be judged on. It will also paint a detailed picture of what working for AIS in that specific job will be like.

For example, Sales Representatives will be required to make cold calls and will not always be in the office, while Help Desk Representatives will mainly answer and ticket service issues all day. Make sure the descriptions align with what you are interested in doing before applying.
Mistake #5: Not Preparing
Don't come in or go through the selection process by winging it. It's not professional if you're not prepared, and we strive to hire professionals. How can we count on you to be ready for our customers if you aren't prepared for us?

We pride ourselves on our excellent customer service, and being prepared for any customer issues is a huge component of keeping our customers happy.

Being prepared starts with your initial application and resume. Make sure you submit an accurate resume representing you and your accomplishments. Your resume is a snapshot into your work experience and background, so be sure it captures your many talents.

Keep in mind, things like education and skills are critical to note even if a degree has not been completed.
Some job sites autocreate resumes with your data, yet sometimes they don't accurately capture your work and school background. They also tend to leave out details. So, create your own resume that you can upload and update when changes happen.

Having a unique resume makes you stand out and shows that you care about the position/company you are applying to (think of the objective section).

When it comes time for the phone screen and in-person interview, know what's on your resume. Having to check and always refer back to your resume during an interview may give off the impression that you are not able to recall or retain information.

Also be prepared with questions you want answered and have a question or two prepared for us. This is your time to gain insight of if we are a good employer for you to work for or if we don't match. Make us sit in the hot seat for a bit! This will show us you are willing to ask questions during difficult or stressful times as well.

Finally, dress appropriately. Wearing sweats and a t-shirt is not professional and is not what we are hiring for. A good piece of advice: dress for the job you want, not the job you have.
Mistake #6: Not Being Focused or Having a Noisy Background
It will be reflected in your answers and tone if you aren't focused on the phone screen, homework, or interview. When we ask a question and get a response that doesn't match what we asked, we may not get critical information from you to determine your fit with the role.

We don't know what you don't share. Not being focused also means that we aren't your priority, which might imply you won't treat our customers as a priority when helping them.

Regarding being focused, don't take calls during the phone screen or interview unless necessary (like an emergency). When interviewing with us, we expect you to be focused on us, not on the spammer who just called you. A good recommendation is to put your phone on silent or vibrate and let us know if you expect an important phone call (family emergencies, first responder services, etc.) ahead of time.

In a related vein, don't accept a phone screen time when you won't be able to focus and dedicate time to it. If you are in a busy lunchroom or or in a noisy public area, those are not good places or times to have the phone screen as the speaker will catch background noise.

This background noise can obscure your answers or make you mishear a question we ask, making the information shared subpar. If you need to reschedule, let us know as far in advance as possible so we can make it happen.
Mistake #7: Not Being Yourself.
We've all heard it before—be yourself. The issue is that some companies say that but then show that they want you to be one version of yourself.

At AIS, we know that people can't, and shouldn't, leave parts of themselves out of work. It will show up somehow, so we want you to be yourself from the very beginning.

Eventually, the most authentic version of yourself will come out, so don't hide it. This will also allow you to see if you'll fit in with AIS and the department you are applying for ahead of time rather than being unhappy in a place that hinders you. Team Fit is a huge part of our hiring process.
The Final Say: Top 7 Interviewing Mistakes To Avoid
In the end, avoid these seven pitfalls during the selection process with AIS if you wish to move forward. Give truthful and accurate information, be on time, and do your research—so you're as prepared as possible.

If you are interested in working for AIS, we have the same shared values, and you have what it takes, check out our careers page and apply for the position that interests and fits you best.
Gail has been with AIS as an HR Assistant since November 2020. She graduated from UNLV with her B.A. in Communication Studies and Leadership Certificate in May 2020. She works closely with our recruiting and HR team on a broad range of Human Resources topics and issues, including Culture, Talent Acquisition, Management, and Compliance. In 2019, she traveled to several different countries in Europe and plans to go back again soon.