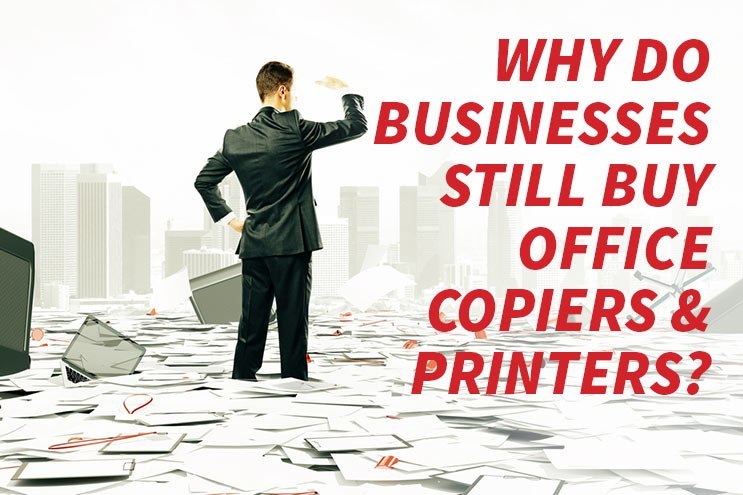 READ TIME: 4 MINS.
We are in the digital age aren't we?
Or is this back to the future? Everywhere we look, people are texting and chatting on their smart phones, sharing and storing digital files on their tablets and laptops. And still, we are seeing businesses buying office printers and copiers in almost every office.
How come?
We are in the digital age. We find it very convenient to share digital files, but there is still a need for paper. People still sign contracts and some legacy holdouts still like the touch and feel of paper. We have evolved and we are using less and less paper, but it's not as bad as this article and infographic provided in 2014 by a paper and catalog company wants to make you believe: Average U.S. Office Worker Uses 10,000 Sheets of Paper Per Year.
And you can be glad we are in the digital age because in 2015 if we wanted to print the Internet, it would only take 136 billion pieces of standard letter sized paper. I think mother earth can be thankful that no one has attempted this.
In the digital age, more and more businesses are going "paper-free" or "paperless" in the office and dealing with documents digitally. We work odd hours and many of our staff even work virtually. Even with our clients, we see the amount of scanning of paper documents to digital documents is on a steep rise.
However, businesses still need the capability to print hard copies. Just think if you showed up to a meeting and not everyone had an electronic device with them. You print hard copies so that everyone can see exactly what you are reading from or presenting. Yes, most meetings today present on a large monitor so everyone can see and participate, but sometimes even then it's a little difficult for those in the back of the room. Not all customers want to review or sign a contract on a digital device. Heck, everyone thought email was going to be the death of fax machines, so why are they still in the office.
Two recent studies by Wakefield Research and Info show that although there has been an increase in scanning with multi-function devices, paper printing is still a popular trend and not going away anytime soon. You can read more about their findings in this summary.
How about the legal, medical, and insurance industries? Would they be able to do business if everything was done digitally? We are moving forward and every year more of our lives become integrated into the digital world, but for now, we still see ongoing purchases for copiers and multi-function printers (MFPs) for just about every business.
Want to know more about copier costs? Check out this article: How Much Does a Copier Cost? A Quick Overview.
Have Realistic Expectations. Get over it, printers and paper are still a thing...
As technology grows and develops, more and more companies are going paper-free and abandoning hard copies in favor of dealing with all of their documents over e-mail or in the cloud. Why? This is fantastic news on many levels; not only does this result in less paper and waste, but it makes many employees' lives easier. It's about streamlining work, productivity, and space. Technology and costs are mainly driving this trend. However, even in this digital age, it's still necessary for offices to have the ability to print hard copies.
Reality #1: Not All Businesses Are Paper-Free
Your office might be paper-free, but not all businesses and customers are on board yet. Hence, it's important that your office has the ability to print hard copies for those clients who need documents in physical form. You should invest in a copier or MFP if you don't have one. If you have one, but it's not in working condition, call professionals who specialize in copy machine or multi-function printer repairs. Not sure how to pick the right one? Here's an article on how to find the right printer repair company: Who provides the best copier or printer repair service?
Reality #2: Hard Copies Serve as a Technology Backup
Sometimes computers crash, networks become unavailable, and storage systems can be hacked. In worst-case scenarios, all data can be lost permanently. One business continuity strategy is having a backup of customer files electronically, but keeping master copies of your records in paper form can also be lifesaving in these catastrophic situations. While technology has vastly improved the business world and communications, there will never be any more foolproof method for record keeping than paper documents stored in a safe place. Maybe a bigger fire hazard, but this has been a reality and deterrent to rapid change.
Reality #3: We Aren't Completely Out of the Era of Hard Copies Yet
Companies are certainly moving more and more towards being completely paper-free. However, for the time being, there are still plenty of reasons why keeping physical copies of documents is necessary. This is why it's crucial that your business has reliable office printers within its facility. There are sharp increases in creating, scanning, and storing digital files, but believe it or not, one of the main reasons that the amount of printing has not decreased at such a dramatic rate is because there is more available content and information available to us.
Understanding all of this, what makes sense for your business?
It's inevitable that we are all going paperless or, at the very least, working with less and less paper. Since this is a fact, it's more important than ever for you to make sure that you have the technology present and the workflow streamlined to efficiently run your business. You owe this to your staff and your customers.
Don't feel overwhelmed or alone; we can help. At AIS we are not only focused on keeping our clients well informed of business trends, but we are dedicated to listening to their individual business needs. When we listen, you win. Only then can we begin to craft a technology roadmap that can help you move toward a paperless business using office technology like the most advanced copiers/MFPs, printer and VoIP phone systems, but we can also help you with business continuity, IT outsourcing, and Managed Network Services. So contact us today and schedule a conversation with one of our business technology consultants so we can show you how office technology can offer you peace of mind and help you win more business.