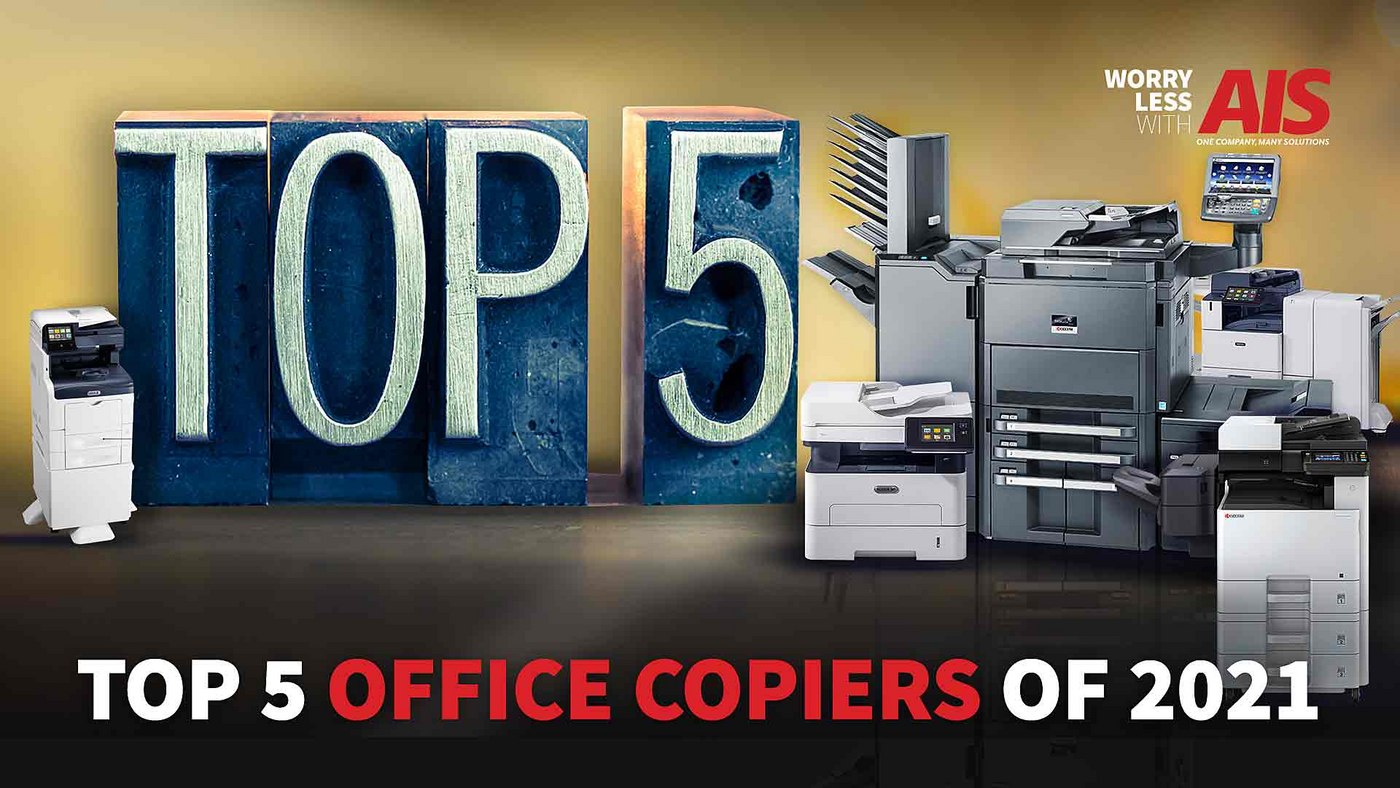 READ TIME: 4.5 mins.
Although so much of our work is produced and viewed digitally, modern offices in 2021 still significantly need paper copies and prints. There are many vital documents that need prompt delivery, printing, and storing, from payment receipts to monthly reports.
That's where the need to have a great copier and printer comes in. Office copiers are designed to tackle heavy workloads and sheer speeds to make life in the office quite easier.
Thankfully, there is a vast array of printers and copiers which suit every office needs. Whether you need cloud storage access, wireless networking, or a double-sided print, you have a ton of options.
The AIS Top-Rated Office Copiers of 2021
We want you to get the best office copiers and printers for your organization, whether it's your first-time purchase or you just need to replace your old one. Below is our review of the Best Office Copiers of 2021 worth investing in this year.
1. Kyocera TASKalfa 7551ci
The Kyocera TASKalfa 7551ci is a fast, efficient, and reliable office copier ideal for all types of office environments. It comes with an optimized image processing engine that guarantees excellent color prints.
It can print 75 A4 pages within a minute, both in color or black and white. The input capacity is relatively high as it can hold a maximum of 7,650 sheets at a time. You can also combine it with a 4,000 sheet finisher if you have a heavy workload.
The Kyocera TASKalfa 7551ci has a record printing speed of 4.6 seconds for the black and white prints and 5.9 seconds for the color prints.
Additionally, it comes with a cloud connect feature, which allows you to print or copy images from your gallery without any struggles.
Like other Kyocera products, Kyocera TASKalfa 7551ci offers SSDL Secure Printing and an encrypted PDF direct print.
Reasons to Buy It:
Promises excellent image quality, thanks to its advanced color technology
It has long-life components, which make the device quite reliable.
Huge storage capacity of 4 GB RAM + 320 GB
Comprehensive security functions
Related Article: Top 10 Benefits of Kyocera Copiers and Printers.
2. Xerox B215 Multifunction Printer
Xerox boasts of high-end printers and copiers which fit nicely in big offices. However, the Xerox B215 is an affordable, smaller-sized design that works well in all organizations.
This device allows you to scan documents, print, copy and fax just like its bigger brothers. It comes with an extended paper tray that holds a maximum of 250 A4 papers and an automatic feed that can hold up to 50 copies.
The B215 is a modest device by Xerox standards, considering that it has a high printing speed of 30 pages per minute (ppm) and an average output of 3,000 pages per month.
This printer comes in a compact and cost-effective desktop design. Its small size, weight, and affordable pricing make the device great for small and mid-sized businesses still growing and don't have loads of printing.
Reasons to Buy It:
It's affordable
It comes with a convenient touch screen.
It has a Wifi connection.
It has a low running cost and occupies less space.
3. Xerox AltaLink C8170
The Xerox AltaLink C8170 is designed for larger businesses and comes with a wide array of features to ensure that you get all you want on the same device.
The device can either print in black and white or in color. In addition to printing, the device can copy, fax, and scan.
Its compact design does not affect the features and capability of the device, as it can print a color page in four seconds and a black and white page in three seconds.
Reasons to Buy it:
It's fast and versatile, capable of handling all printing and scanning business needs.
Uses both USB and internet connection
Includes Automatic 2-sided/Duplex
4. Kyocera ECOSYS m8124cidn Multifunction Printer
Perfect for small and mid-sized businesses, the Kyocera ECOSYS m8124cidn Multifunction Printer (MFP) allows users to print, copy, scan and fax.
The device is small in size, compact, reliable, and utilizes the critical Kyocera security features. This means that you don't have to worry about data loss when using this printer, provided that you use the data encryption feature well.
You can rely on this model for both color and black and white copying and double-sided printing, too!
The device takes a maximum of 10.2 seconds for color prints and 9.8 seconds for the black and white images. It comes with USB functionality, and you can print up to 7500 pages per month.
Reasons to Buy it:
It is affordable with incredible color quality.
Less printing waste
It promises value for money.
5. Xerox VersaLink C405/DN
The Xerox VersaLink C405/DN is another notable Xerox product—printing in both color and black and white. This device can produce up to 36 pages per minute, with a resolution of 600x600 dpi.
Upon buying this machine, you can expect a smooth and efficient operation and multitasking capabilities.
Related Article: How Much Does a Xerox Copier Cost? Price Comparison and Review.
Reasons to Buy it:
Ethernet, USB, and Wi-Fi Direct compatibility.
Includes Automatic Duplexing
Fast printing speed for its size
What's Next? Lease or Buy an Office Copier Today
A new copier or printer is a valuable addition to your small business, irrespective of your niche. So, don't allow a slow or unreliable machine to slow down your business operations.
There are many great, affordable options out there, and the above are just a few notable ones that deserve a shout-out.
AIS is your office equipment and technology solutions provider, including modern copiers and printers. We lease and sell multifunction copiers and printers at affordable prices. Contact us today to learn more about our devices—we're here to give you peace of mind to help you win more business.