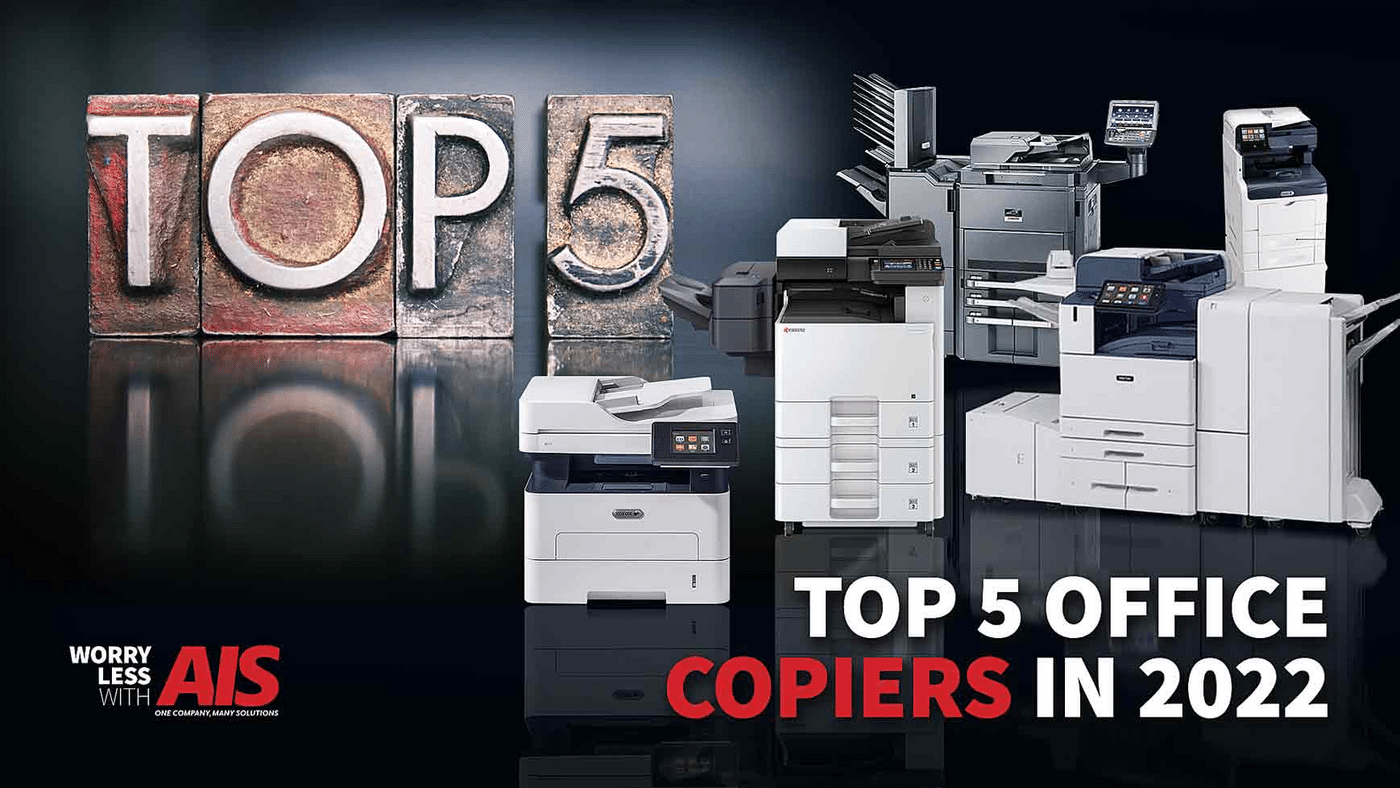 READ TIME: 5 MINS.
Nothing impedes productivity and has the potential to bring normal business processes to a complete halt than slow copy machines. What's worse is one that requires constant maintenance or lacks up-to-date features.

Suppose you are currently in the market for an office copier or multifunction printer (MFP) that offers modern technology upgrades which deliver on both speed and productivity.

We have compiled a list of the top 5 best office copiers that you could consider going into 2022.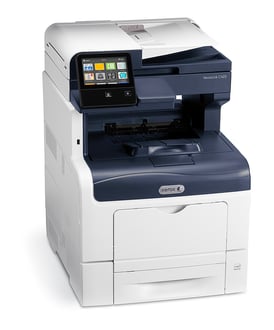 1. Xerox VersaLink C405
If you have a smaller team but still need a copier that delivers without compromising the quality of copy or fast delivery, consider the Xerox VersaLink C405. This machine can copy, scan, print, fax, and send documents through email onto the cloud.
Although this unit is a relatively smaller model physically, it features a control panel that can accommodate different apps. Its tablet-like navigation and interface can fully be customized to meet your personal preferences.
On this interface, you can change your view, expand functionality, and download or create customized applications.
A neat feature of the Xerox VersaLink C405 is its color correction technology which ensures color documents come out as clear and vibrant as possible.
The manufacturer has included True Adobe PostScript 3 and PANTONE-approved solid-color simulations to further the quality of the colored copy. It also comes with a two-sided output that has the potential to handle 85,000 images per month.
This copy machine can print up to 36 pages per minute letter speed (ppm) and 35 ppm A4 print speed. Its capacity stands at 700 sheets, but it can hold an additional 550 sheets.

As it pertains to security, the machine protects from unauthorized access, data transmission, and network intrusion. Additionally, it has secure overwrite and stringent data encryption, which adds bonus security.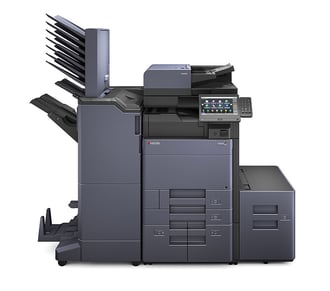 2. Kyocera TASKalfa 3553ci
Cybersecurity is a significant concern within any copy ecosystem. The Kyocera TASKalfa 355ci makes it to this list as it has the best-enhanced security. It has a signature security feature dubbed CIA, which stands for Confidentiality, Integrity, and Availability.
These Kyocera security features protect the user in that they prevent threats such as DOS attacks, data alterations, and information leaks.
This MFP comes with a 10.1-inch color touchscreen panel that is relatively easy to navigate. This interface comes with a host of helpful actions like Print, Copy, Send, Fax, USB Drive, and an Internet Browser.
It also comes with a printing resolution of 1200*1200 and a high speed of 35 pm. The product can scan up to 120 ipm with simplex pages or220 ipm with duplex pages. Its time to first print stands at 5.1 seconds for black and white documents and 6.5 seconds for color documents.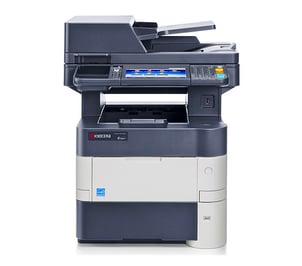 3. Kyocera ECOSYS M3550idn
The cost of print is a primary factor when considering which copy machine to go for. The Kyocera ECOSYS M3550idn makes it to this list as it offers the lowest running costs of all the other printers within its class.
This device uses a low power consumption, and its environmental footprint is quite impressive as it has minimal environmental impact. For cramped-up printing spaces, this print machine is perfect as it has a low noise mode.
Users get to enjoy a seven-inch color touchscreen, mobile printing support, and a capacity of 50 ppm. It takes about 21 seconds to power up and a merger 8 seconds for the first print and copy.

For a busy office, this is the printer as it can handle up to 2600 sheets of paper at a go. It comes with a 100-sheet multipurpose tray and a 75-sheet reversing document processor.
With the Kyocera ECOSYS M3550idn, you enjoy digital copy features including copy density control, priority print, split copy, automatic duplex copy, scan-once-copy-many, among others.

4. Xerox AltaLink C8070/HXF2 Color Copier
At a glance, the Xerox AltaLink features that jump right at you include its print speeds that stand at 70ppm. Users get a monthly duty cycle of 300,000 pages, a 1.91 GHz processor, 8 GB memory, 250 GB hard drive, and Wi-Fi direct connectivity.
This copy machine was definitely meant for high-volume workflows. It has two handling trays that can process 520 sheets each and a 100-sheet bypass. It also comes with a high-capacity tandem module tray that totals up to 2000 sheets and a single-pass duplexing document feeder that has a capacity of 130 sheets.
As Xerox has partnered with McAfee, you are assured of top-notch document security. For starters, users have secure print, network authentication, hard drive overwrite, access controls, and IP address filtering.
Overall, with the AltaLink C8070, you get a copy machine with an automatic document feeder that is incredibly fast. What's more, as the machine is feature-rich, you should enjoy easy functionality and maximum security.
The downside is that this machine was meant for larger businesses and there are no finishing accessories for the C8070 model.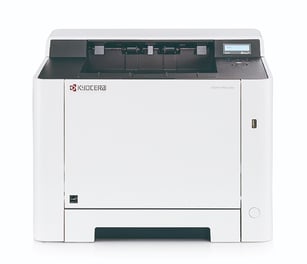 5. KYOCERA 1102RD2US0 ECOSYS P5021cdw Color Laser Printer
If you are in the market for the best USB laser printer, this model is the copy machine for you. While it comes in a compact design, this economical color device packs valuable features that should ensure your copy ecosystem functions without major glitches.
This duplex unit has the capability for double-sided printing. Users should also benefit from the direct printing functions via Wi-Fi or USB host. For a monochrome copy, expect 21 ppm, while for colored copy, speeds stand at 21ppm.
Overall, this model is perfect for smaller offices keen on maintaining high standards when it comes to its copy.
The Final Say: The Top 5 Office Copiers In 2022
Concisely, if you are in the market looking to purchase or upgrade an office copier you already have, you want to be on the lookout for the paper capacity that the machine has. This feature ensures that there is maximum productivity and that you are able to handle large stacks of documents at a go.
Additionally, it would be best to find a machine with cloud integration, as this would help with the setup and connection of all your multipurpose machines to third-party apps. Finally, choose a copy machine that can power up in less than 30 seconds and one that can print at least 30 pages per minute.
You want to find a copy machine that best fits both your needs and budget. Seeing as you are likely in the market for the best copy machine for your business, make sure to contact us today to learn how we can assist you and the needs of your business. We're here to give you peace of mind to help you win more business.