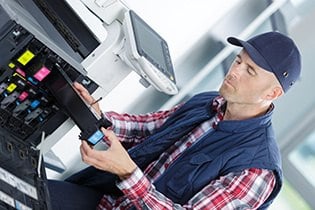 In-house printing solutions can be highly effective in reducing your overall print costs by close to 30 percent. Improve your bottom line and reduce your company's impact on the environment by using managed print solutions and repair.
How Printer Repair Services Improve the Efficiency of Your Company
Managed print services can take a lot of the hassle out of maintaining and repairing your printers. Printer repair Riverside can help you get the most out of your equipment, avoid the need for repairs and increase your company productivity. A single breakdown can create a bottleneck in your company that delays projects and impacts your company's ability to make money.
Improve Device Reliability
Commercial printers are expensive and have many parts that can break down over time. When you commit to a managed print service, you can ensure that your printers are being cared for and most issues can be resolved before a repair is needed. In the event that you do need a repair, you already have a trusted contact that can typically deploy the same day to get your printer operational again. Additionally, a professional printer repair service can review your output and help you build the right environment to meet the actual demands of your business.
Benefits of a Monthly Subscription
Printers have parts that need to be replaced. Toner, drum and other consumable items must be regularly checked and upgraded to ensure reliable operation. A managed print service includes all of the labor required to repair and maintain your printers. Stop making your employees take care of issues with the printer. Every minute an unqualified employee spends fiddling with a printer is money wasted. You're paying your employees a premium salary or wage to complete a job, not mess with electronics.
The Cost of Repairs
The cost of repairs can often be extremely high, especially if a printer hasn't been adequately maintained. When you go with a company that helps you to maintain your printers, you're able to get the cost of most, if not all, repairs in the cost of the monthly fee. This can drastically reduce your stress and improve the overall efficiency of your company.
Visit our Office Copy Machine Ultimate Resource Page for additional info on pricing and costs, and just about anything else copy machine related.