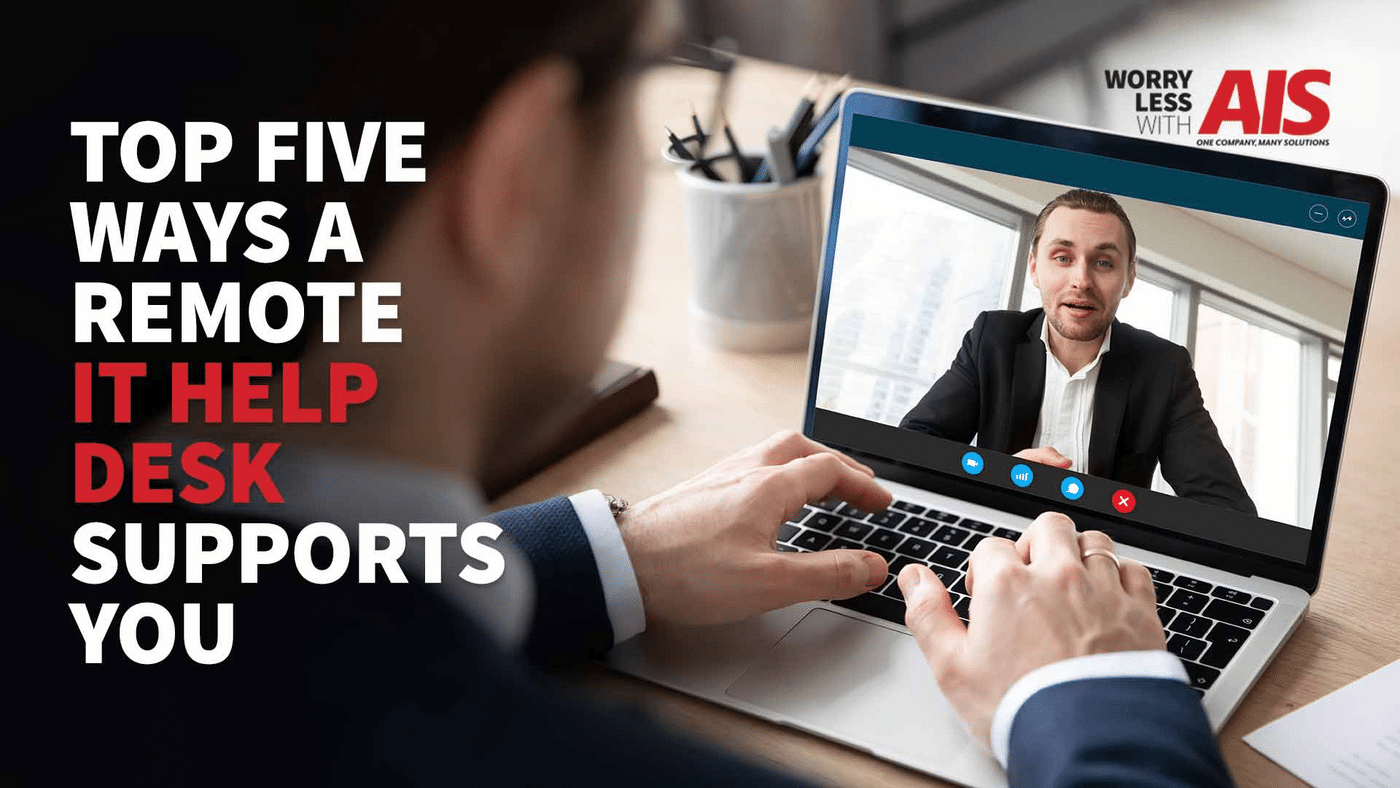 READ TIME: 5 MINS.

Modern IT infrastructure and technologies are impressive until problems arise. When IT systems fail, users will undoubtedly become disoriented and scramble for the available solutions.

Few companies can provide IT support to all users during such situations. For this reason, you may want to invest in a remote help desk. It's a readily-available solution that helps users to fix their problems faster and conveniently.

Related Article: How Can Managed IT Services Help Your Remote and In-house Employees?
What Is a Remote IT Help Desk?

As the name implies, a remote IT help desk combines human and software resources working together to address end users' issues. It's akin to your IT department's front-end and serves as the access point for anyone needing help.

For this reason, businesses prefer outsourcing their remote help desk, especially those without large in-house IT teams.
How Can a Remote Help Desk Support Your IT?

Here are the top five ways a remote help desk supports your IT:
1. Automating Labor-Intensive Tasks
IT-related issues are often complex and labor-intensive. A remote help desk allows you to automate the labor-intensive tasks that characterize an IT specialist's job. It helps streamline communication for teams assisting users.

An IT support desk provides in-depth instructions for resolving any technical issues users might have. All this happens on a single service desk platform.
By automating processes and simplifying workflows, a remote help desk enables your IT team to be more efficient in its work. The help desk software can log and track all issues besides streamlining status updates.

It can also create tickets automatically before assigning them to the appropriate support specialists. No request will slip through the cracks, and end-users will be guaranteed quick assistance whenever.
2. Scalability
IT teams that are bogged down by labor-intensive and time-consuming tasks have little room to grow. However, this can be a thing of the past if you invest in a remote help desk. It will expand your IT team's ability to serve end-users promptly and effectively by automating critical and repetitive tasks such as logging issues.
By maintaining detailed logs of common IT issues, the help desk helps you to create a comprehensive knowledge base for referrals when addressing issues. Ultimately, it will be easier for you to resolve common problems using how-to guides or a self-service portal.
3. Comprehensive Multi-Device Support
IT teams often encounter challenges in supporting different devices deployed across an organization's ecosystem. That's particularly true for organizations with a Bring-your-own-device (BYOD) policy.

A remote IT help desk offers comprehensive support beyond company-acquired computers and devices. When your users' choice of devices is determined by personal preferences, they'll undoubtedly use them for work.

Personal devices introduce not only a security risk but also the risk of downsides, especially if the devices malfunction. Without a help desk, it will be challenging to troubleshoot across operating systems.

A remote help desk can help your IT team to troubleshoot issues across operating systems and effectively manage the difference between traditional and mobile systems.
For instance, your IT support team can remotely access Mac, iOS, Windows, and Android devices and resolve issues without causing downtimes. Thus, a remote help desk gives end users the peace of mind that they're only a request away from IT support should they need it.
4. Trend Analysis
In today's dynamic cyberspace, IT teams should have insight into everything that happens in their ecosystems. There's no better way to do so than undertaking constant trend analysis. With an IT help desk, it's easy for the IT team to track trends relating to user issues, system performance, and other mission-critical parameters.
The most critical benefit of trend analysis is that it helps IT teams pinpoint and rank the most reported issues and identify spikes in requests. The insights allow them to resolve new problems as they arise.

For instance, if multiple questions are raised about specific software, a remote help desk can inform your IT team that it's time for patches or a change in service providers.
Internal trends within the IT department can also get tracked for better service delivery. With an IT help desk, you'll be able to tell how long it takes to resolve users' requests or the technicians who excel at resolving a specific type of request.

Therefore, a remote IT help desk provides your team with the technical metrics needed to enhance service delivery.
5. Seamless End-User Customer Service
When you deploy an IT support help desk, it's best to ensure that it operates like a business. In this case, consider the end-users (your employees) as customers who want their IT-related issues resolved promptly and efficiently.

When it comes to IT-related problems, your team can't afford to drag its feet since the organization's operations will take a hit.
A remote help desk works like a customer service platform and offers the same benefits. Some of the ways it can help you provide quality customer service to end-users include:
Communication: Poor communication is an all-too-familiar frustration for users when resolving IT-related issues. A remote help desk makes it easier for users to describe their problems and receive help promptly.
Customer Data: A remote IT help desk collects customer data as it handles their requests. In doing so, it learns more about end users' common questions and frustrations for better prioritization.
Post-Service Surveys: When users' issues get resolved, an IT help desk survey forms. In doing so, it receives insights on how to

provide better customer service

.
Key Takeaways: The Benefits of an IT Remote Help Desk
With full-time, remote jobs becoming more common, the technical issues that IT teams encounter will keep growing. However, resolving the technical issues that remote workers face is often challenging, hence the need to deploy an IT help desk that guarantees the same quality of service as an in-house team.
At AIS, we provide our customers with top-of-the-range remote help desks that address issues as soon as they arise. To do this, we align our IT support with your business needs, enabling us to deploy efficient remote customer support. So, if you're ready to partner with a proactive IT help desk, contact us to get started. We're here to give you peace of mind to help you win more business.