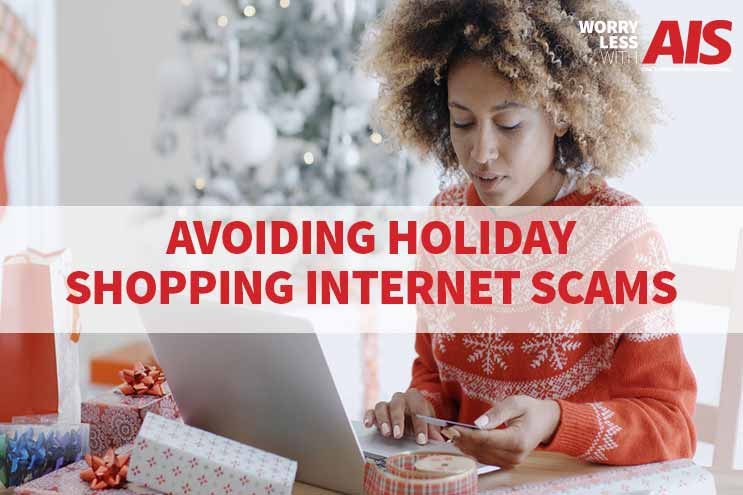 READ TIME: 5 MINS.
It's that time of year again and what better way to spend the holidays than learning about online security and internet holiday shopping and the best ways to avoid internet scams?
Internet hackers and cybercriminals are in their prime when it comes to the holiday season. More and more people doing their holiday shopping online, making it easier for hackers to attack.
The holidays are a joyous time for many. But, the advent of the season brings an increase in web and internet activity. It's important to stay mindful that the "online deals" may be deals you didn't exactly bargain for.
Ever heard of international or Nigerian scams? Scammers are lazy and mostly interested in finding easy targets. It's up to you to make sure the purchases you're making online are from legitimate websites.
It's also just as important your personal information is stored on a safe and secure network.
Want to know the good news? It's relatively easy to avoid losing your money in scams online. You'll be surprised to learn the few easy things you can do to stay safe on the web.
We've put together a great list for you on some of the most common scams and tips in protecting yourself from cybercriminals this holidays season.
Interested in learning more on cybersecurity and how to keep your business safe? Read our article, Using Managed IT Services to Avoid Digital Scams.
While you're at it, take a look at the Federal Trade Commission's website where they've listed out some of the most common and recent scam alerts.
Online Shopping Security: 5 Common Internet Scams
1. Shady Email Scams
Ever heard of phishing (fishing) scams? Phishing is the fraudulent practice of sending emails, claiming to be sent from a reputable person or company. These emails are made to induce you to reveal personal information, passwords, and credit card numbers.
Make sure you're reading unfamiliar emails in detail. Some emails you receive might appear as confirmations for expensive purchases. These emails might include a link for you to dispute or cancel the transaction.
Other phishing emails might warn you that a failure to confirm personal details will result in your account being closed, or canceled order.
Clicking the link in a phishing email and entering your brief information automatically makes you an easy target for a scammer. Keep in mind; scammers seem to be particularly interested in rewards accounts, or any website or store you might have a subscription to.
The best tip in avoiding phishing scams is to never click links in an unfamiliar email. Some phishing scam emails look so real, you should make sure that you are dealing directly with the business.
Instead, type the web address into your browser to visit the site and confirm whether a requested action or email is legitimate or not.
Interested in learning even more about phishing scams and prevention? Read, Phishing Scams Even Fool Tech Nerds–Here's How To Avoid Them, published by Wired.
2. False Shipping Notices
Another easy way scammers get to you by phishing is when they involve messages from mail carriers or shipping services.
Phishing messages from FedEx, UPS or the Post Office that notify recipients of a delayed shipment are very common during the online holiday shopping season.
These types of messages typically include a link to track your package, or a message saying your packages are lost. Unfortunately, clicking these link can easily download a multitude of viruses or ransomware onto your computer. You can always call the site or online business using your phone to verify if their email or communication is legitimate.
If you receive a message the postal service that says your package is lost or delayed, visit the site itself. Obtain the tracking number and shipping details, instead of clicking the link embedded in the email.
3. Fake Charities
It always feels great to give back, especially around the holidays. It's even easier to do so this time of year, as websites and organizations make it easy to do.
With that being said, donating to charities online puts you at a higher risk for cyber attacks and internet scams. The spirit of the season makes people feel generous and want to give, and scammers capitalize on that.
Internet scammers don't just capitalize on the internet, but all the apps we use. Online scammers even go as far as creating fake 'GoFundMe' accounts. They claim they're helping raise awareness and support of a charitable cause or person in need.To avoid charity scams, it's important you remember not all charity causes are good if they're in the hands of online hackers. Be deliberate about your giving and do your research.
Any request to wire money to anyone you aren't familiar with should be a red flag. If you want to give money to a 'GoFundMe' account, stick with a personal or local connection. Make sure you can verify that the organizer is authorized to raise money for the recipient or cause.
4. Phony Classified Ad Listings
When it comes to online holiday shopping security, it's important to keep your guard up. Be careful when using websites sites such as Craiglist, Facebook Marketplace, and similar online venues.
If you come across an ad on Craiglist, you should use the same precautions during the holiday season as you would at any other time.
Always meet in a public place to make a transaction and test any electronic devices before paying for them. Stay away from a seller or an ad if you come across any of these instances:
If a seller has posted an item on a local classifieds site but says it needs to be shipped
If a seller wants you to cash a money order or cashier's check and wire money or send money, to another party
If a seller is selling tickets to concerts and events (these tickets are at a higher risk of being fake).


And remember, if it seems to good to be true, then it probably is.
5. Tech System Vulnerability Scams
Hackers are always looking to take advantage of your network and system vulnerabilities to breach your computers and install viruses.
The easiest way you can avoid becoming a victim is always to install system updates, which often have enhanced security measures.
As soon as your computer signals to you that an update is available, make sure you follow the right steps in doing so. The last thing you need is for an outside hacker to attack your personal data and files stored inside your computer.
Do you want to learn more about the safety of your network? Read our article, Top 5 Things You Should Know About Managed IT Services.
For more information on everything to do with Managed IT Services, check out our resource page, here.
If you think you're at risk of a cyber-attack, make sure you take the proper precautions to make sure you and your money remain safe and secure.
Remember, a reputable online business, bank, or government website will never ask for your entire Social Security number. Maybe the last 4 digits.


AIS continues to learn about cybersecurity threats and the best ways to prevent these issues from occurring in the first place. If you think you or your business is at risk for cybersecurity attacks, or looking for preventative ways to ensure your business stays safe, reach out to us here. We're here to give you peace of mind, to help you win more business.