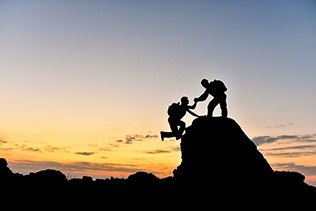 Trust: belief that someone or something is reliable, good, honest, effective, etc.
Today, I'm going to talk about trust.
We all know that trust is the foundation of any solid, effective relationship – personal or professional.
Trust is the foundation of our success. As a provider of a variety of IT services, including managed IT services, that our customers rely on to run their businesses our customers have to have trust in our ability to deliver.
As their managed IT partner, our customers put their trust in us to help manage and protect their most vital business resource – their information.
You're in a Relationship
If you outsource a business process or subscribe to a service, you are in a business relationship. And like any relationship, to be successful it needs to be built on mutual respect and trust.
Our managed IT offerings are part of a larger business that AIS is (currently) more well-known for – selling/leasing and servicing copiers and other office equipment. I've heard from our salespeople that many folks put copier salesperson on the same level as used car salesman. Ouch. I've seen similar levels of distrust for IT. Many business professionals have been burned by IT projects that under-delivered on promises and are wary of IT promises.
Of course, some companies "earn" that distrust – they're only interested in meeting a quota and getting the sale, they don't care and aren't invested in whether or not the customer succeeds.
Building Trust – Expertise and Execution
As you'll see in a minute, expertise and execution aren't the primary builders of trust – though most people think so. However, knowledge and the ability to execute are both needed to get things done.
We have a list of certifications a mile long. Our copier service techs work on certifications from the many manufacturers in the industry. On the IT side, we focus on certifications from Microsoft and the other products we use in our managed IT solutions. This knowledge helps us do a good job for you.
If you're reading this, at some point you've probably felt like executing your service provider. We focus on executing your IT plan to perfection (so you feel a bit more kindly towards us). IT success is only possibly through collaboration – working with a business to understand their goals and then finding the correct technology to meet those goals.
To that end, we offer a package of services – not a series of one-off solutions that improve one piece of your IT puzzle but leaves the remaining puzzle pieces scattered on the table. We also recognize that not every company is a potential customer – if we don't think we're a good fit for you, we'll tell you that instead of trying to force a deal.
I Gotta Be Me
All work and no play makes Jack a dull boy, as the saying goes. One of best tips of being engaging in business that I know of is the advice to be yourself. We aren't always "all business." Sometimes, we'll talk with our customers about vacations, families, or the game last night. These conversations create a feeling of trust for us and for our customer, that the person we're doing business with is a real person, not a faceless corporate drone out to squeeze everything they can from the other person.
As I was putting this post together, I came across some interesting research that backs that up with statistics. A study in 2010 by Trusted Advisor Associates showed that while expertise is important in building trust, something else is even more important. The ability to create a sense of business intimacy and ability to make people feel that you're interested in their success are more important to building personal trust than credibility and even reliability.
Now, the cynical among you may be thinking, "sure, anyone can fake that." And maybe some people can, at least for a short while.
However, those of us at AIS don't have to.
I want you to think for a moment about your current business partners. Do you trust that they're going to deliver or do you only hope they will? Do you have the feeling that they don't really care if you're successful as long as you keep sending in the checks?
If you're only hoping and need support managing your network, backups, security, and planning your IT strategy; check out our eBook about managed IT services by clicking on the image below.