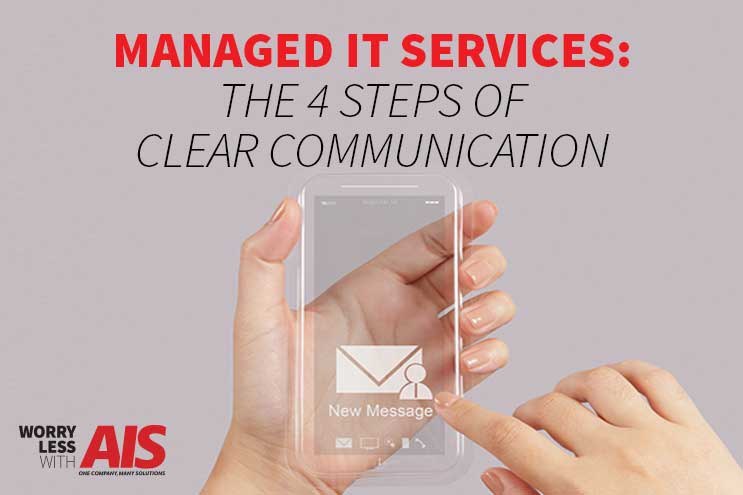 READ TIME: 7 MINS.
Have you ever thought about the connection between your managed IT services provider and how you communicate with them?
It doesn't take much to start a conversation with someone, and when you're in charge of the success of a project, you need to not only be talking to your managed IT services team but listening to them, as well.
1. Close the communications gap.

2. Tailor communications to different stakeholder groups.

3. Acknowledge the value of project management.

4. Use standardized project communications practices.
Just look at any list of why IT projects fail, and we can promise you'll find "miscommunication" or "lack of communication" as one of the reasons on the list.
Unclear communication probably isn't a huge revelation to you however, you'd be surprised to learn how large the communication gap is between you and your managed IT services team.
Even if you don't use a managed IT services company to help with your IT needs, the communication between you and your IT department still needs to be a high priority that you and your employees continue to grow every day.
If you haven't switched over to managed IT services yet, or unsure of what managed IT services are, read our article, What is Managed IT Services? How to Tell If You Need Them.
We've made this process super easy for you and focus on walking you through every step of the way when it comes to clear communication using managed IT services.
Numbers Don't Lie: Ineffective Communications leads to Project Risks
First, take a look at a few numbers we pulled from the Project Management Institute (PMI) in an article published by CoreWorx, PMI: More Than Half of All Project Budget Risk is Due to Ineffective Communications.
"Companies risk $135 million for every $1 billion spent on a project, and newer research shows that $75 million of that $135 million (about 56%) is put at risk by ineffective communications. This indicates a critical need for organizations to address communications deficiencies at the enterprise level."
This particular PMI report focused on successful project execution and revealed a gap between companies that were successful and those that weren't. One of the significant ingredients of successful projects was effective communication—go figure!
More often than not, company leadership assumes effective communication takes place before and during the execution of a project, and even after a project is complete. Maybe this happens in an ideal world, but unfortunately, not in this one.
The PMI report also says that high-performing organizations, companies completing about 80% or more of projects on time, on budget, and within goals, create formal communication plans.
This is compared to lower-performing counterparts, which complete fewer than 60% of projects on time, on budget, and within goals.
Ineffective communications are the primary contributor to project failure one-third of the time and also had a negative impact on a project's success more than half the time.
If you're understanding these numbers and think, "This doesn't apply to me or my business," you might want to rethink this.
While this study was conducted with project management professionals of large companies, the basic point is valid regardless of company size. If you don't communicate your goals, strategy, and planning clearly, your projects will fail, take longer to complete, and cost more than necessary.

Take a look at an article we published on the 6 Common IT Project Mistakes (And How We Avoid Them) to learn a little more about project mistakes and how to prevent them from happening.
Managed IT Services Success Using Four Steps to Clear Communication
Communication isn't always easy. We all know the challenges of communication or "getting through" to one another, such as a friend, significant other, or a parent.
In the business world, add in management teams, employees, service partners, and different departments of conflicting goals— the need for communication is obvious.
We aren't even going to introduce company politics and their effect on the interpretation of communications, because then it can become a real mess. Don't skip out on it. Communication isn't something you should put on the back burner.
Consider these four strategies for clear communication using managed IT services:
1. Close the communications gap. Closing the gap is the very first step to take when explaining your company business goals with your managed IT services team. Your managed IT team should fully understand what your business goals, budgets, plans, and projects are before they even begin to assist your company and employees.
Identifying and sharing these goals and benefits with those responsible for implementation ensures your needs will be met in a timely and cost-effective manner.
Set aside some time to brainstorm where your business is currently at and where you see your business in the future. This list could include topics such as quarterly business goals, department growth, employee satisfaction, or the technology needs of your employees and customers.
Make a list of the pain points your business seems to frequently face (as well as the pain points your clients or customers might be facing as well) to identify the appropriate resolutions needed to implement for success.
2. Tailor communications to different stakeholder groups. We hear about tailoring different goals, strategies, and plans based on each stakeholder group at your company quite often. These tailored communications especially pertain to companies who might be rapidly growing or one with multiple locations around the country.
What's a stakeholder? "A person, group or organization that has interest or concern in an organization. Stakeholders can affect or be affected by the organization's actions, objectives and policies.
Some examples of key stakeholders are creditors, directors, employees, government (and its agencies), owners (shareholders), suppliers, unions, and the community from which the business draws its resources.
Not all stakeholders are equal. A company's customers are entitled to fair trading practices but, they are not entitled to the same consideration as the company's employees."
While all groups need to understand the goal of a project, different stakeholders care about different things. Have you ever heard the quote, "Too many cooks in the kitchen?"
Not everyone needs to know the minor specific details on a project. So, tailor what you share and the language you use to each group.
Once you've met with your stakeholders and assessed their needs for a specific project, you can then relay this information to your managed IT services team, so they collectively understand the overall project goals.
3. Acknowledge the value of project management. There are a lot more moving parts to project management, such as project management communications than you might know.
Everything you do when managing a project is partially, if not entirely, a communicative process. Planning is a great and effective way to communicate your path through time to complete a series of tasks, and managing those tasks is a constant communicative effort with your team.
As you plan with your managed IT services team, make sure you create some communications paths you and your IT team can both reference and follow throughout the entirety of the project.
You want to be on the same page as your managed IT services provider and the more you communicate with them, the better they can serve you and your business needs. The better they can serve your needs, the more beneficial their services are to your business.
Don't assume project management "just happens," especially when you're working with or partnering with a team, such as an outside IT department.
4. Use standardized project communications practices. There are project communications practices, and if used effectively, the results are extremely fulfilling to your business.
Some of these standard practices directly tie-in to managed IT services:
- At the beginning of a project, inform involved employees of the communication channels you'll be using (email/IM/SMS) and the frequency of updates you'll be sending (weekly summaries and daily snapshots).
- Create a central and safe location (such as the cloud) to store all your project related information and make sure all involved parties can access this location virtually.
- Create a templated status report that all your project members can easily use. Standardization in status reports allows you to do further automation and manage the information flow.
- Have a formal communications plan and a standardized method to communication such as a collaboration tool or email, so that everyone is aware of updates, changes, and roadblocks of the specific project you're working to complete.
- Don't be afraid to ask your partners for their best practices for communications. By getting to know the industry or a partner's best practices it can help you jumpstart your own communications plan.
Expectations: Clear Communication and Your Managed IT Services Company
If you're already using a managed IT services company and feel the communication between you and them isn't clear, voice your concerns. Remember, you're paying them to help your business grow. You deserve to have high expectations.
If you're currently looking for a managed IT services company and unsure which provides the best communication, consider that a great managed IT services company will:
- Work with all stakeholders to identify your business challenges and opportunities. This gives employees lower on the totem pole a feeling of ownership over the coming changes – they feel they're part of the change rather than that change is being done to them.
- Follow a step-by-step workflow that involves back and forth communication between their team and yours, at every step of the process.
- By following a step-by-step workflow, a great managed IT services company ensures they won't skip a step or miss an opportunity to check-in and verify the plan is running smoothly.
- Offer monthly reports that detail ticket resolution, virus protection or prevention, and backup recovery.
- Provide quarterly meetings with a virtual CIO (vCIO) to ensure IT services continue to match and anticipate current and future business needs.
If you haven't already, start communicating with your employees and your managed IT services team. You want your company to flourish and grow in the most effective way possible, and you can't do this without clear communication on your projects, from start to finish.
For more information on everything to do with Managed IT Services, check out our resource page here.


AIS continues to focus on business growth and success not just for current customers, but future ones as well. We are here to assist you and your business needs, no matter what step of your project you're trying to tackle. Not only can we inform you on managed IT services, but we also provide copiers, printers, document and process management, copier and printer repair and maintenance contracts, telephone services, and are an authorized dealer of 3D Systems' 3D printer lineup. To speak with one of our business technology consultants, reach out to them, today! We're here to give you peace of mind to help win more business.