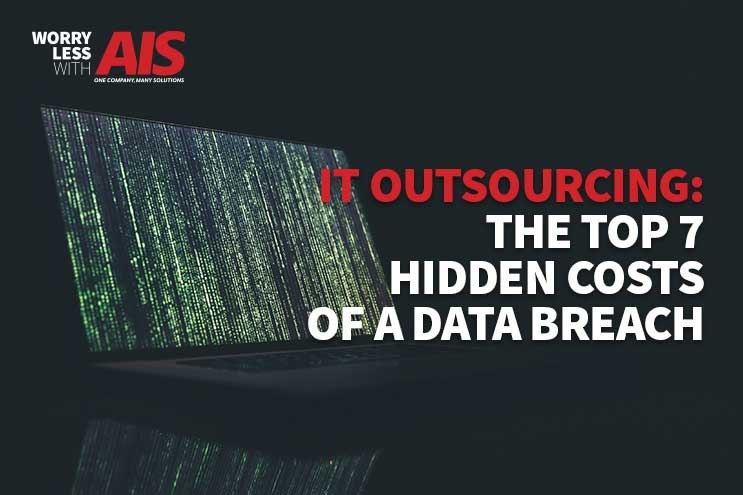 READ TIME: 5 MINS.
Whether you are outsourcing your IT or not, beyond the anticipated financial costs and damages following a data breach or cyber attack, other associated and unexpected expenses have impactful contributions when your business gets attacked.
Many costs associated with a data breach are ones you might not immediately think of, or could even be ones you don't see at first, such as the financial impact of losing valuable customer data and information.
The focus on a data breach is most associated with the direct costs that are hitting your business. However, this is sometimes blinding and doesn't allow you to look at all the little costs that come with a data breach.
Sometimes, the "hard-to-quantify" costs that are easier to ignore typically end up costing you more, solely because they're harder to identify and attack head-on at first.
So, what are the hidden costs of a data breach? Well, before we go into this, let's first identify what a data breach is and what happens if one occurs.
A data breach occurs when any information is stolen or taken from a system, network, computer, technology device, or infrastructure, without the knowledge or authorization to do so.
In simpler terms, a data breach is a cyber attack. Unfortunately, a data breach can occur even if you think your business is taking the proper safety precautions.
Cybercriminals don't discriminate. It's their goal to steal your data and are always one step ahead of you when it comes to obtaining your business' sensitive information.
Once a data breach occurs, you have little time to pick up the pieces to try and get your business back up and running.
It's important to know all the steps to take if a cyber attack occurs and the hidden costs of a data breach that typically gets overlooked.
7 Hidden Costs of a Data Breach: What They Don't Always Tell You
1. Increase in Insurance Premium
Does your business have a cyber risk insurance policy? Have you ever heard of one?
Think of it like this: say your office building experiences a break-in overnight, and you have zero video surveillance in-place or a working alarm system—making it easy for the burglary to occur.
Your insurance company will most likely increase your policy premium (at a significant rate) because you didn't take preventative measures to secure your business.
After a data breach, your cyber risk insurance policy premiums could increase as much as 200%.
This steep increase means you should always take the initiative to stay proactive when it comes to your network information security.
Finding a managed IT services company, that you can outsource your IT to, which performs a network risk assessment is one of the best ways to learn of any issues or insecurities throughout your network before a cyber attack.
To learn more on a network risk assessment and how it relates to saving your business money and keeping your customers safe, read our article, What Is A Network Risk Assessment and Why You Need One?
2. Lost Value of Customer Relationships
Unfortunately, a data breach doesn't just impact you and your business— it affects your loyal customers, too.
A personal data breach could expose private and financial information of your customers, leaving them as victims of the attack, as well.
If you lose customers because of a data breach, that money is directly coming out of your business and going into the hands of a competitor.
It will then cost your business more money to invest in new sales and marketing efforts to build your customer base back up again. There's a lifetime loss of revenue from a customer who leaves and never returns.
3. Value of Lost Contract Revenue
Many businesses, including yours, probably utilize a contract or service level agreement when you partner with new customers.
There might be terms within your customer's contract that state if a data breach occurs and the breach directly affects the customer, they can legally terminate the contract and discontinue any services through your business.
Whether the contracts are new or existing, a data breach could cause all of these contracts to be voided or canceled.
4. Devaluation of Brand
It's all about the branding, right? No matter how big or small your business is, your brand is your reputation, which is everything.
Without having a stable and trustworthy reputation, your business will most likely stay stagnant, or even worse, become non-existent.
The second a data breach occurs and affects your customers; the second people will begin to talk and share their experiences about your business.
It does you no good to leave your customers information unprotected and something a provider of IT outsourcing can help you with.
5. Loss of Intellectual Property (IP)
On top of a customer's sensitive data and information that could be at risk during a security breach, your business' trade secrets, investment plans, and other confidential information could be at risk, as well.
Think of how hard you and your employees have worked over the years on all of your business plans and strategies. Now, imagine all of those ideas in the hands of not just a cybercriminal, but your competitors as well.
You could lose a substantial competitive advantage over rival businesses because of a data breach—which can result in a massive loss of revenue.
Your organization's plans and ideas are personal and strategic to your industry and your business, and you should want to ensure they are kept safe within the security walls of your network.
Learn more about protecting your business and ideas by reading our article, Network Security Issues: 10 Tips To Keep Your Business Secure.
6. Increased Cost to Raise Debt
Credit rating agencies regularly downgrade the credit ratings of companies that experience a data breach or cyber attack.
Just like in your personal life, you are in control of your debt, your credit score, and how you handle your money.
Same goes for your business. Financially, you're putting your business at risk if you aren't making sure the financials of your network and infrastructures are safe.
7. Wasted Time Spent on Disruption or Destruction
How much downtime can you afford to lose when a data breach takes place? We're assuming your answer is,
"I can't afford to close the doors of my business ever… even if it's just for a week!"
The impact of disruption includes losses tied to manipulation or alteration of business practices and costs associated with rebuilding capability.
Some of these costs could include:
Repair costs of equipment and facilities
The need to replace systems that are temporarily on hold
Losses from your inability to deliver goods or services
These costs, however, do vary depending on what your business does, the nature of the cyber attack, and the extent of the disruption.
If your business was just affected by a data breach or cyber attack, read an article recently published by Financial Director, What To Do Following A Data Breach.
Even though some of these costs are intangible, a data breach can truly set your business back by doing some serious damage to your brand.
Make sure you're taking the best steps in staying proactive when it comes to cybersecurity and protecting your business from cyber criminals.
By understanding the risks associated with a data breach, you will have a better idea of you are looking for and in a managed IT service provider that you can protect your business.
For more information on everything to do with Managed IT Services, check out our resource page, here.

AIS continues to learn about cybersecurity threats and the best ways to prevent these attacks from occurring at your business. If you think you or your business is at risk for a data breach, or looking for preventative ways to ensure your business stays safe, reach out to one of our business technology consultants, here. We're here to give you peace of mind, to help you win more business.