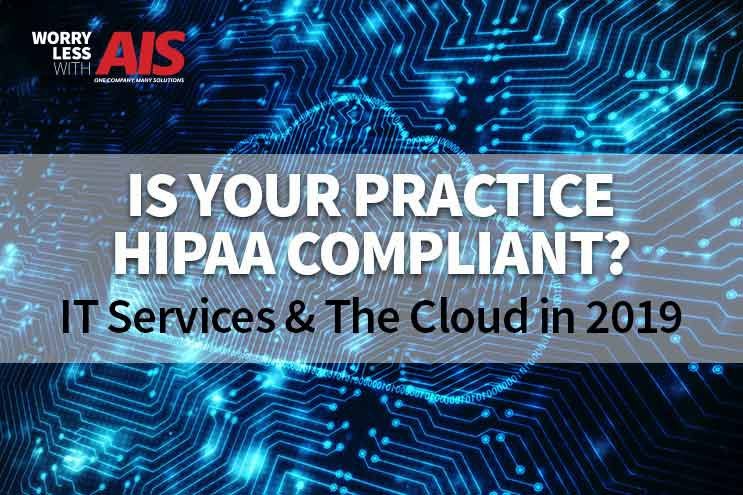 READ TIME: 8 MINS
When it comes to your medical practice, what kinds of HIPAA compliant managed IT services are best for protecting your patient's medical records and information?
Maybe this is something you're not too familiar with—and that's ok! Many businesses aren't aware of the benefits of using managed IT services to help increase HIPAA compliance at their office.
For starters, let's go over what managed IT services are.
Managed IT services is a group of services that a Managed Service Provider (MSP) or a third-party technology provider offers businesses. These services include:
Remote monitoring: Remote monitoring allows experts to focus and identify potential issues, avoiding complications from slow servers, preventing security breaches, managing data spikes, and eliminating server or application crashes.
Technical support: Technical support is a business, department, provider, or staff which offers help with managing computer technology. Technical support can be in many forms, including desktop, application, mobile, networking, hosting, website, and IT security. Technical support is used as a reference, resource, or training tool in many businesses to either support staff or customers.
Training: Managed IT services assist and train your employees on best practices when it comes to the technology and systems used every day. The training you receive from managed IT experts helps overcome certain IT issues, as well as helping you achieve your business goals.
Security standards: As technology quickly emerges and evolves, so does security standards. Since these standards are constantly changing, make sure you stay informed on the following measures

New attacks

Software updates

Security methods

The need to proactively monitor networks

Deciding how and when to encrypt data

Changing passwords and access requirements
Virus protection: Uploaded files are immediately scanned for contents that can compromise your business, preventing the potential for automated distribution of infected files. A great managed IT services company's virus protection detects trojans, viruses, malware, and other malicious threats. With minor customization, you can expand your antivirus protection with external virus scanners to scan files on external storage.
Data backup & recovery: There's a simple answer to the problem of losing data, and that's having a data backup and disaster recovery strategy. Companies, especially smaller ones, make the same mistakes about backing up data, which is, they just don't do it! Managed IT services work with you to develop a data backup and recovery strategy specific to your business goals.
Business continuity: Business continuity is the ability to continuously deliver services and products at a minimal service level after a business disruption, such as a natural or man-made "disaster." Without an effective response or business continuity plan, your business is at serious risk.
Technology road mapping & planning: Technology road mapping is detailed reporting, allowing you to see the applications taking up the majority of your network resources. With the help of an IT outsourcing team, you're able to create technology plans or road-maps to future-proof your business.
Risk assessments: A network risk assessment is an assessment of the network(s) your business and employees use each day. The assessment helps identify what the risks are to your critical systems and sensitive data, by using risk assessment tools. Once these risks are known and identified, you can begin to organize your data by the weight of the risk associated with it.
Virtual CIO: A virtual CIO, vCIO, or Chief Information Officer, is a consultant, a third-party, or business that offers a service (part-time person) to fulfill the role as a conventional CIO. This service helps businesses that can't afford the salary and benefits for a full-time executive. A vCIO usually works remotely and provides support in developing a technology roadmap, review and maintenance of IT infrastructure, vendor management, and new technology recommendations.
Help desk: A help desk is a person, department, or business provided to users by fixing problems with their PC or applications that they use on every day. An IT outsourcing help desk troubleshoots your IT issues as they occur and boosts your business. A help desk can simplify management, reduce costs, increase productivity, provide you tracking and reporting, and communicates with you as needed.
Application and database development: The more up-to-date your software and computer applications are, the easier life is. An IT outsourcing service can provide you with the right software applications to ensure your business is using the most updated technology. They can also develop new software specific to your business needs and job duties.
Network management: Proper network management is fundamental when it comes to supporting managed IT services. There are five key benefits to outsourced network management:

Maintenance – Your network and apps are proactively managed and patched without you ever needing to worry about keeping them up to date.

Security – Every company is (rightly) worried about network security. We continually monitor your system for threats. This keeps the possibility of a breach as close to zero as possible and prevents data loss.

Reduced Total Cost of Ownership – The costs of staffing, hardware, software, and maintenance and upgrades adds up over time. Outsourced remote monitoring reduces or eliminates those costs for a known monthly rate.

Minimize Downtime – When servers go down, a business can grind to a halt. With 24/7 monitoring of servers, AIS can prevent issues that cause server downtime.

Productivity – AIS monitors and maintains your network and technology so that you can focus on growing your business.
Compliance: If your business is covered under one of any number of compliance laws, though, you may be hesitant to use something, like the cloud. After all, falling under HIPAA, FINRA, or other regulatory rules may worry you as to whether cloud backup endangers your compliance. With the right IT services team, you can safely store your data in the cloud, and be HIPAA and FINRA compliant.
Hosting: A web hosting services provider, is a business that provides the technologies and services needed for the website or webpage to be viewed on the Internet. Most hosting providers require that you own your domain in order to host with them.
Managed IT services are provided to businesses based on their needs via three business models:
Flat Rate (all-you-can-eat model)

Per User

Per Device, and bundled together as a single monthly fee
To learn more about managed IT services, read our article, What is Managed IT Services? How to Tell If You Need Them.
As you can tell, there's a lot that goes into managed IT services. Let's explore some ways managed IT services help support HIPAA privacy and security regulations, especially when it comes to the cloud.
HIPAA Compliant Managed IT Services: Supporting Your Business
Document Management
Document management is an excellent solution for medical practices looking to minimize the impact of paper in their workspaces, increase efficiency, and save some money in the process.
Not to mention, digitizing patient records. Doing so allows secure sharing for all patient records and information. This helps minimize the chance of leaked information if a data breach were to occur.
With document management, there's no more finding the patient's manila folder, walking it to the examination room, and then having to refile that folder.
HIPAA regulations and protected health information (PHI) can be compiled using digitized patient records, as long as you provide the right training to all office staff who have access to patient records and information.
Cloud Storage and Backup
Cloud storage and backup offer a host of benefits over traditional data backup options. Complying with HIPAA regulations may be a concern as to whether your cloud backup endangers your compliance.
Lucky for you, you can safely store your data in the cloud (and remain HIPAA compliant), but there are a few things you should know first.
1. The Cloud is safe for HIPAA.
As we said above, you can use cloud backup and remain compliant under most regulatory rules. This is because cloud technology has come very far in a short period. Always remember though, not all managed IT services companies are created equal.
Some third-party services are more secure than others, but fortunately, vendors who are compliant with regulatory rules can provide you with compliance documentation.
2. You Can't Outsource Compliance.
It's essential that you recognize that outsourcing your compliance-required data backup does not outsource your responsibility. As a medical provider, you are liable for all patient records and keeping them secured within your network. Your medical practice or healthcare organization can become liable if you fail to remain compliant.
By using a third-party data backup company, such as a managed IT services provider, you become business partners with that company under HIPAA regulations as well.
Learn more on picking the best managed IT services provider by reading our article, How to Find The Best Managed IT Services Company Near Me.
3. Important Questions To Ask Cloud Backup Vendors.
Now that you know the basics of cloud backup when it comes to all that HIPAA requires, it's time to find the best managed IT services company. To do so, you'll need to ask the right questions.
Are you compliant? This is the most important and most often overlooked question for businesses to ask. Just because third-party vendors promise secure cloud backup doesn't mean they're complaint. They may not know they're breaking the law if they're not compliant! Always double-check before choosing a vendor.
What about the contract? Under HIPAA regulations, you'll need to sign a business associate agreement with your managed IT services provider. Depending on the regulations you follow, your agreement could be different. Make sure the provider supplies you with a contract that outlines their compliance with your data.
Do you subcontract? Some managed IT services providers subcontract their data backup services. This can be risky when dealing with HIPAA compliance regulations. If the services provider does subcontract, the subcontractor must also remain HIPAA compliant.
Is information returned or destroyed? There may be times when you need to end services with your managed IT services company. With this in mind, ask what happens to the data afterward. It's best if the vendor returns or destroys information, but if local law prevents this, make sure the vendor provides continued security.
Certifications to Look For
ISO 27001, SSAE16, and the MSP Alliance's MSP/Cloud Verify are general compliance certifications for controls around information security.
These codes are an excellent first step to double-check that your managed IT services provider has auditing and controls in place for their services.
However, this is only a starting point when it comes to regulations, business needs, and standards. Don't assume that because a provider has a certification that it means your search is over. Be sure your potential partner has kept up-to-date with changing certification requirements.
Data compliance in the cloud is an issue, but not an issue that would prevent you from moving to the cloud, so long as you do your homework.
To read more on HIPAA compliance relating to the cloud, read an article published by the U.S. Department of Health and Human Services, Guidance on HIPAA & Cloud Computing.
Keeping your employee's health records and personal information isn't just the right thing to do, it's the law. You are responsible for complying with all HIPAA policies and regulations to ensure your patient's data is kept safe.
For more information on everything to do with Managed IT Services, check out our resource page, here.
Final Thoughts
AIS is dedicated to helping your business grow, no matter what type of business that may be. We strive to give you as many resources as possible to ensure your business technology devices run smoothly for not just your customers or patients, but for your employees as well. If you want to learn more on HIPAA compliant managed IT services for your business or any of our other services, reach out to us, here. We're here to give you peace of mind, to help you win more business.