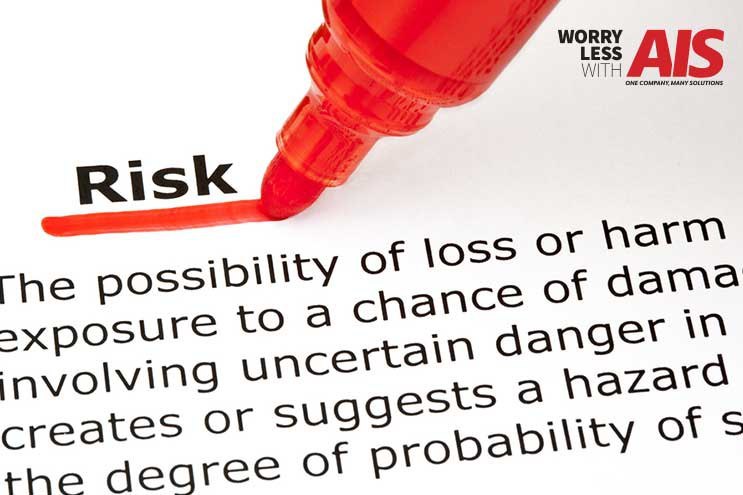 READ TIME: 5 MINS.
Have you ever thought about the risk your business could be in without managed IT services? Or even more, the advantages and disadvantages of managed IT services versus your average "IT guy" for your business technology needs?
Did you know your company is at a higher risk of cybersecurity attacks when you don't outsource your IT department?
Using managed IT services for all of your company's technology needs not only helps keep your files and data more secure, but it also allows you to focus your time on more important and pressing tasks.
Without managed IT services, your company could face the following challenges:
Uncontrolled spending

An unsecured network

Lack of professional/qualified experience

No disaster recovery plan

Wasting time "fixing" issues on your own

The downfall of old technology
Even if you think you're doing a great job at managing your company's IT department, there may be some things you forget to keep track of or even some IT precautions you should be taking but are unfamiliar with, or don't know how.
We've done the hard work for you and created a list of risks your business might be facing without outsourcing your IT needs. Let's dive in!
What Your Company Risks Without Managed IT Services
Uncontrolled Spending
How much does your business spend a month on IT? Do you even know? Does it seem like a lot? How are you sure you need all of these services?
Today, it seems that just about every business need can be solved with an app. At least that's what technology providers want you to think.
Without someone closely monitoring your costs associated with your IT department, your IT budget can quickly get out of hand, and you could even be investing in services and products that your business doesn't necessarily need for success.
You want to ensure that the services and products you're paying for benefit your company and your employees in the most helpful way possible, and there's no better way to do so than by using a managed IT services company. On top of all that, internal IT staff can be expensive to hire and train.
A great managed IT services company provides you with multiple pricing models to chose from that benefits a customized solution for your specific business needs.
A managed IT services company can work with you on different pricing options to help cut down on how much you're spending each month. Choosing a "fixed rate" ensures you know exactly what you're paying for and the services your business is using.
Managed IT services have a variety of pricing models, so it's important to make sure when you're requesting proposals, you understand each model. Once you become familiar with the different models, it'll be easier to compare the costs of each one or identify which model best suits your business needs.
Become familiar with the different pricing models by reading our article, Managed IT Services and Features: Is The Price Right?
Unsecured Network and Disaster Recovery
From financial data to personal employee records, every company has sensitive data they need to protect.
Unfortunately (now more than ever) there are more threats to your business from experienced hackers and other cybercriminals to take over all of those important and confidential files.
Besides the threat of cyber attacks, what about a standard hardware or server failure, or even a natural disaster? Time is money when a catastrophic disaster happens to your technology, communications, data, network, etc.
There are two major concerns for your business when this happens. How long it takes for you to get up and running again and how much data is lost. You wouldn't want your company to be left stranded if something like this were to happen.
You or your IT staff probably don't have the time or experienced technical knowledge to constantly monitor and protect your business from these specific threats or instances, and this is where you'd benefit from utilizing managed IT services.
When you outsource to a managed IT services provider that is familiar with security compliance standards, you minimize the risk related to credit card numbers, client or employee data, and any other sensitive business information. They can also provide business continuity and disaster recovery plans.
Managed IT services implement security strategies to keep your firewall and other security measures up-to-date so that you don't have to take the time to worry about it yourself.
Backing up your technology systems is essential and focusing on this should be one your biggest priorities. Read our article, Backup or Disaster Recovery — How To Keep Your Business Alive.
Lack of Professional or Qualified Experience
Just because you outsource your managed IT services doesn't necessarily mean you have to get rid of some of the members of your IT department.
It may just mean those employees can focus on less technical issues that might be overly-complicated or overwhelming for them to tackle on a day-to-day basis.
An experienced and knowledgeable managed IT services provider can efficiently assist and monitor email and web hosting, data storage, server and network maintenance, and much more.
Having a managed IT services professional to monitor and work on your most complicated IT issues frees up your in-house staff, allowing them to tackle new projects and create new initiatives that can improve your business operations.
This way, your IT staff won't be bogged down at all hours of the day putting out fires that could take up the majority of their workday.
When you and your employees aren't distracted by day-to-day IT maintenance issues, your business management is simplified, and you can continue on the path to success and company growth.
The Downfall of Old Technology
There's nothing worse than having your old and slow-working IT systems fail and not having the resources to fix them because of how out-of-date they are.
One of the best advantages of managed IT services is the implementation of new technology as well as the fast installation of this technology.
Managed IT services providers can start tackling your projects the second you hire them to do so, saving you time and money. The sooner you allow a managed IT services team to assist you and your IT needs, the better your systems will run for a more extended amount of time.
Not to mention, a managed IT services team is always looking for new and updated technology the second it comes out on the market. The more updated and newer your IT systems are, the fewer problems you'll have now, and in the future.
For more information on everything to do with Managed IT Services, check out our resource page here.
If you want to learn even more advantages of using managed IT services, read this article that BizTech published, 6 Key Advantages to Using Managed Services.

AIS is continuously looking for ways to better serve you and your business technology needs. Whether you're looking for a managed IT services provider, or looking for ways to improve your print quality and projects, we're here to give you the best advice to help your company continue on its path of success. If you still have more questions, we're here to answer them for you. Reach out to one of our business technology consultants today. We're here to give you peace of mind, to help you win more business.