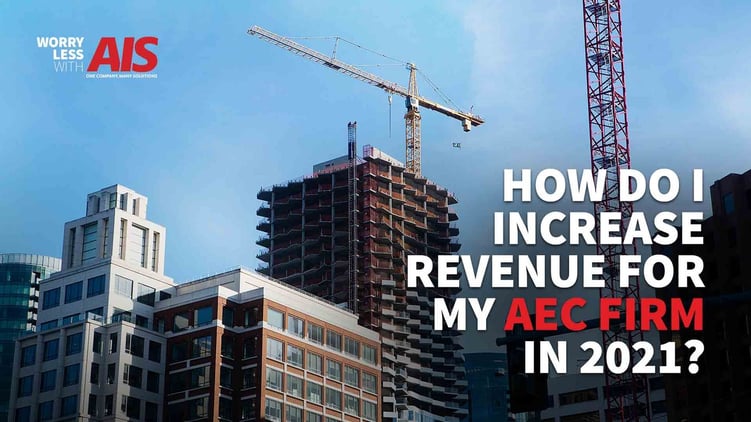 READ TIME: 3 MINS.
What are you doing in 2021 to help increase revenue for your AEC firm? Does it have to do with adding on more projects? Or maybe marketing efforts to better promote your brand? What about tracking and billing back for all print expenses?
If your firm isn't already tracking every print, allocating those costs, and invoicing clients for reimbursements, you are missing out on a huge amount of revenue.
To efficiently capture this revenue stream, your firm needs a solution that accurately collects print and copy data while integrating these costs into your accounting system for reimbursement.
Follow along as we dive into an AEC-specific solution that won't disrupt existing workflows, captures every print and copy expense, and makes invoicing those costs a painless process.
Increase Revenue For Your AEC Firm
Printing in the AEC industry can be complicated and expensive. Whether your print environment consists of small format, large format, or color production machines, tracking the exact size, quality, and quantity of every print is imperative.
Accurate tracking isn't all. You need your staff to correctly assign those costs to the proper project for reimbursement. Then, migrate that billing data into your accounting system for monthly client billing.
We're happy to let you know about a powerful print and copy tracking solution that meets all of those needs, helping your firm track costs and bill back those printing expenses.
Argos: Print and Copy Tracking for AEC
Argos tracks every print and copy job at your company and then helps your staff assign those document costs to a project or account code. Once collected, this information is sent to your accounting system for client reimbursement or internal cost allocation.
Compatible with large format printers, MFPs, and color production equipment, Argos captures every print and copy expense directly from the printer.
After a print is released or copy is made, Argos prompts your staff back at their computer to assign those costs to the proper project, phase, and task. Gone are the days of slowing typing in project codes at the copier panel!
Total ERP Integration
Argos integrates with popular accounting packages (ERPs), like Deltek, BST, Oracle, and more. When a new project, phase, or task is added to your ERP, it is instantly available within Argos, so your staff always bills print and copy costs to proper projects.
Argos sends the billing data gathered from your staff back into your ERP. Before importing, a transaction is created to be reviewed by your accounting team. This saves your staff from hours of tedious data entry and helps generate detailed invoices for every project that was printed-to during the month with just a few clicks.
Increase your firm's reimbursable revenue while saving your staff from hours of frustrating and tedious work, with Argos.
The Final Say: Increasing Revenue for your AEC Firm
We barely scratched the surface when it comes to what all a solution like Argos can do for your AEC firm. But, we hope you were able to gain some great takeaways on the benefits of, especially in terms of increasing your revenue in 2021.
At AIS, we're dedicated to educating and informing our readers on the best solutions for their business, firm or organization. We want to see you grow and are here to help you continue on your path of success. To learn more about your options, make sure to reach out to one of our business technology consultants. We're here to give you peace of mind to help you win more business.