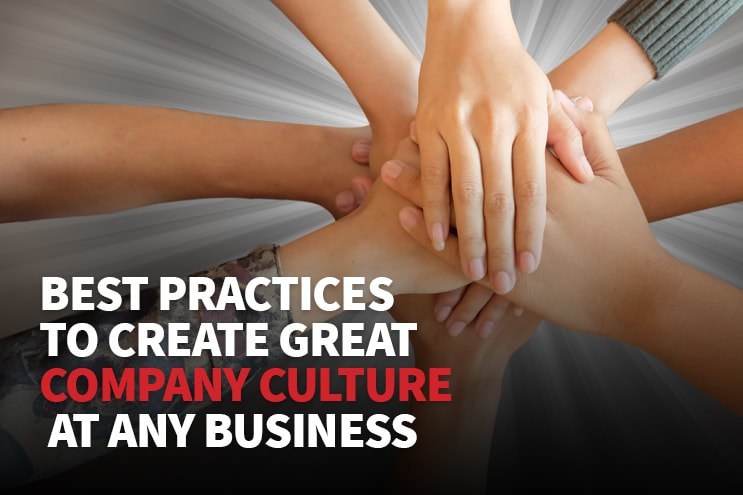 READ TIME: 8 MINS.
You might not know it, but as your business continues to grow, the company culture and environment of your office (or offices) play a significant role in employee happiness, customer satisfaction, and the success of your organization.
But how can a business achieve the kind of company culture where everyone wants to work? What are the best ways to implement a new culture if yours is lacking? What is company culture, anyway?
If you've been asking yourself any of these questions, but can't seem to find the answers, don't feel alone! Many organizations struggle with company culture and don't really know where to begin. Businesses know they care about their employees, but can't always find the best ways to show them.
Before we dive into how we began fulfilling our own company culture, let's start with the basics and talk about what company culture is.
The Balance Careers describes company culture as, "...The personality of a company. It defines the environment in which employees work. Company culture includes a variety of elements, including work environment, company mission, value, ethics, expectations, and goals..."
Establishing any sort of company culture in the workplace is one of the best ways to show your dedication to your business, your employees, and your customers. When your company has a mission and values that support it, you'll begin to see your business achievements and successes in a whole new light.
Making Changes: Our Story on Company Culture
We feel it's important to share a little about where we came from when it comes to our company culture (or lack thereof at one point), so you have realistic expectations when you implement a culture within your organization.
When we opened our doors over 17 years ago, we had a clear business strategy and plan but didn't really give much thought about the type of company culture we'd possess. We did, however, have a mission statement.
By the way, our mission statement has been the same since we first wrote it 17 years ago! We're proud that even though we've had some kinks to work through over the years on culture, we've always reverted back to our original beliefs within our mission, which says,
"Our mission is to exceed our customers' expectations by providing unparalleled business solutions with leading-edge technology products, coupled with unmatched service, supplies, and support. Our foundation of work ethic, integrity, and teamwork enables us to work within a culture that cares about our customers, our community, and each other."
We, unfortunately, learned the hard way that just because we had a mission statement, didn't mean we could simply live up to it, and everything else would fall into place.
We were doing a lot of things right (especially in our service deliverables to our clients), and we knew we had a strong and loyal client base. Even though we started as a very small company, we saw continued growth year over year.
However, and much like most companies, as we grew, we continued to see higher numbers of employee turnover than we felt comfortable with. There was no cohesion in the way everyone viewed the organization, and the vision of the company varied from person to person.
We were happy our organization was growing and growing fast, and that we were profitable. But, the company culture was the least bit thriving, and employee engagement was low.
LinkedIn recently published an article on reasons for poor employee retention because of work cultures you might find interesting, People do not quit companies, they quit toxic work cultures!
There were times when team members would voice how they dreaded coming into work, and some considered themselves to be in such low or insignificant roles, that they had no aspirations for personal development or career growth within our company.
Hearing this was anything but easy, but just like anything else in life, "Sometimes the truth hurts." And because of those truths, it was very apparent that we needed to change. We had a culture, but it was a dreary one.
Creating Great Culture From The Ground Up
As you can see, our company culture was struggling and needed a total face-lift. Instead of brushing it under the rug, we decided to make conscious efforts to acknowledge the problems and understand that it was up to us to create big changes. It was time to buckle down!
In 2015, some of our team members were at the CDA (Copier Dealer Association) meeting when we had the pleasure to hear Chris Taylor, the President, and CEO of Fisher's Technology, speak. The timing of it all was pretty spot on because his discussion was all about the culture of his organization.
What Chris described seemed hard to imagine; almost as unbelievable as rainbows and unicorns! We were blown away by the type of culture Fisher's had created. It was the type of culture people enjoyed being a part of; who also looked forward to coming to work each day. This is the point when it finally clicked for us.
We knew immediately what we were missing. We lacked a healthy, thriving, and nurturing company culture. From that moment on, we made a deliberate effort to learn as much as we could about what a great company culture looks like, and how to create the type of culture people enjoy working in.
Here are some of our best practices on what we did when we began our journey of improving and re-creating our company culture:
Visited Companies Who Had Great Culture
Some of our executives visited and toured the headquarters of organizations who demonstrated great company cultures, such as Google, Zappos, and Facebook. These organizations are known for having amazing cultures and amazing people working there.
Each organization was unique and very different from one another, yet healthy, thriving and growing with a platform where people felt like they were a part of something bigger than themselves. We were truly inspired and set along on a mission.
Spruce Up Your Office Space
We continually say that we're a technology company and it was time we actually looked like one. So, during our company culture improvement efforts, our offices almost immediately underwent a major remodel.
We spent over $1 million to emulate workspaces similar to Google, Facebook, and other Silicon Valley tech companies.
The end result was a beautiful and modern new headquarters. Subsequently, each of our other branch locations also underwent a major remodel. We furnish snacks and beverages free of charge to our team and got rid of those antiquated vending machines.
We even won an award for our office renovation, The "2018 NAIOP Southern Nevada Spotlight Honor Award for Tenant Improvement – Large Office." You can learn more about it by reading our article, AIS Wins Top Honors at 2018 NAIOP Southern Nevada.
Our new office renovations helped, however, things still weren't changing much in employee morale or engagement. We continued to learn more and more about what great culture really means in an organization, and we realized that the culture in an organization is defined by the people in it.
It's important to remember that company culture is not a tangible thing. Having a new and modern office space can improve the culture within an organization to an extent. However, it's typically short-lived.
Identify Your Core Values
Does your business have core values? Maybe you're not sure what core values are and which values your company should possess.
Core values are the central beliefs or ideas of an organization. These values manage employees while promoting the differences between right and wrong in the workplace. Core values also help businesses determine if they're on the right path to achieving their short term and long term business goals.
One of the most important tools we used to establish and identify our core values was from a book titled, "Traction: Get A Grip On Your Business," published by, Gino Wickman. This book gave us great insight into identifying six key components of our business, as well as different ways to empower and strengthen our employees and leadership team.
To this day, we continue to follow the "Traction" method. By doing so, we were able to identify our core values:
Adapt
Integrity
Surpass
Nurturing
Optimistic
Wow!
If you combine the first letter of each word, the phrase reads, "AIS-NOW!" Within our core values is a saying we have written on the walls of our employee lounge, "We adapt and never lose our integrity to surpass expectations, we are AIS NOW!"
These core values align with the type of organization we are. But also, these values are the qualities of individuals we want a part of our team who will encourage how we shape our culture.
Hiring The Right People
Hiring the right people for your organization is much harder than it seems. It's necessary to make smart hires and shift your focus to employ team members who align with your core values.
The driving force behind great culture is the people within your organization. Once you've identified who you are as an organization, it's critical to follow-through by hiring candidates who you genuinely believe will understand and implement the current values your company practices.
We worked with members of the PathShare HR Services division at GreatAmerica to help us develop a hiring process that corrected and improved our selection of candidates. We began to hire individuals who exuded and exceeded our core values.
During our interview process, all potential candidates are required to answer specific questions and express the behavior they'd possess in certain situations. Candidates are then graded based on their responses, allowing us to analyze not only if they're a good fit for our company, but if we're a good fit for them. We want our candidates to believe in us as a company just as much as we believe in them.
We have an identified set of core values, a hiring process, and selection interviews and assessments that have helped shape the culture of our organization, simply by hiring the right candidates that have the, "Can Do, Will Do," attitude.
Cultivate your Company Culture
When it comes to the culture of your company, your work is never really over. Even if you think your culture is perfect, or you're seeing major improvements, there's always room for growth and development.
We've realized over the years that our work is not over, and this entire process is a journey. Company culture is important. It's a living, breathing ecosystem that needs care and proper cultivating.
It might sound strange, but it's essential to treat your corporate culture like you would a person you care about, or even a beloved house plant!
Like we said earlier, culture is not something tangible—so because of this, it has to be reinforced in different methods, such as creating appealing and collaborative work areas or improving the hiring process of future employees.
Another culture improvement we recently implemented to support cultivation is a process that helps our team develop professionally. We formed a Culture Committee that acts as a change agent within our organization.
Our Culture Committee is another way where team members can get involved. We noticed our employees feel more supported and become more supportive of company culture efforts when they know they're the reasons it's continuing to grow. As we can't say it enough times, it's the people that make an organization.
The Takeaway On Great Company Culture
As you can tell, there's a lot of different processes and strategies that go into successfully rolling out exceptional company culture.
We don't usually spend this much time talking about our own company and achievements, but we felt it was important for you to know that we didn't always have a great culture. We've put in hours of research, brainstorming, and implementation to fight for the results and community we now have.
If you can take away anything from this article, let it be that we say, "Yes, we've come a long way, but we still have so much more to tackle and perfect." Acknowledging that changes need to be made is the first and most critical step to take as you start the journey of improving the culture of your business.
We're proud to say that while we have competitors, there are some things they can never duplicate, which is our culture and our team. If we can do it, you can too!

At AIS, we are continually making efforts to change or evolve the ways we do things, so that our business, employees, and customers can grow together. Company culture might sound simple at first, but it certainly has its difficulties, and you might even feel slightly defeated at times. If you'd like to learn more about company culture, how company culture supports business growth, or any of the products and services we offer, reach out to us, here. Also, check out our video channel on YouTube, The Copier Channel. We're here to give you peace of mind to help you win more business.