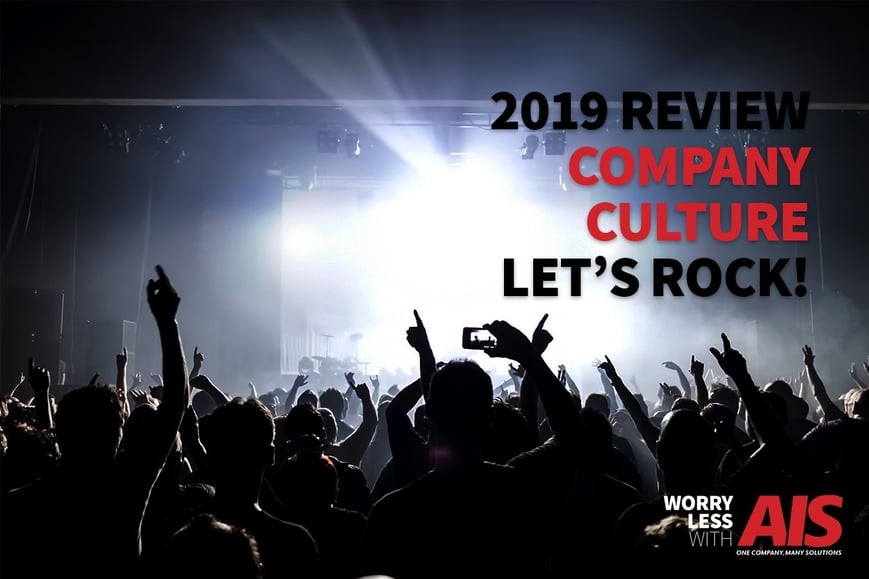 READ TIME: 6.5 MINS.
It's hard to believe that 2019 quickly came to a close! But, now is a great time to sit back and reflect on all of the great things accomplished— while also planning and strategizing for 2020!
When I reflect on all of the significant accomplishments we had here at AIS, it is clear that what we did helped reinforce and strengthen our culture. We were busy with many initiatives and implemented some great new ones to help keep our team productive, informed, and empowered.
There was so much that happened, but I'm highlighting the Top 10 Best Moments in AIS culture, and I'll finish it off by telling you a little about some of the top concerts I saw in 2019— and why you should consider seeing those performers in 2020!
A Company Culture of Transparency
Communicating in New Ways
2019 was a pivotal year in making sure that everyone at AIS was informed on the latest news and happenings about our business and industry.
Earlier in the year, a perception survey from our staff revealed that many of our team members felt that news about going-ons at AIS was rarely communicated.
We took this as an opportunity for improvement and focused on some key initiatives to work on. With the help of our fabulous marketing team, we launched 49BC The Podcast.
49BC is our internal AIS Podcast that is launched monthly with updates on current events as they pertain to AIS, department updates, and my very own segment, "Rosa's Ramble" which covers topics relating to our culture and also current open career opportunities.
The positive feedback we have received from so many members of our team reinforces that our attempts at keeping everyone informed are definitely working out!
Awarding Our Team Members
At the start of each year, we bring all of our team members together for an annual Kick-Off Event where the achievements of the prior year are celebrated, and new initiatives are launched. In 2019, we incorporated a new segment called "The Geary Awards."
The gear signifies that we all work better together as a team, such as gears do in a machine. The "Geary" was also named after Gary, the President and founder of AIS.
This event is the Academy Award style celebration of our team members who go above and beyond, with winners receiving Geary's for Top Sales, Top Technician, Top Service, Rookie of the year, Culture Award, and The Presidential Geary Award.
We also award our employees with an annual President's Trip. The 2019 AIS President's Trip was a fabulous vacation to the Big Island of Kona, HI. 17 of our top performers were joined by a loved one on the trip that included festivities such as a welcome reception and Luau.
Winners also got to swim with dolphins and explore the local culture. Typically in our industry, President's Trip is awarded to only the top sales performers. However, at AIS, we make it a point to be inclusive of all departments, making all employees eligible to join in on the trip!
Taking Events to a New Level
AIS proudly sponsors our local minor league baseball team, the Las Vegas Aviators. In 2019, our entire team was able to bring their family and friends to a night out at the ballpark. One of our team members even threw the first pitch of the night. Our employees indulged in delicious food and cocktails throughout the evening, making it a fun event for everyone.
We also went all-out for the AIS Family Christmas Party, where our team members were able to bring their children to the party for a fun-filled event consisting of presents delivered by Santa as well as ice skating and arts and crafts.
Family is important to us and our culture, and we always do our best to include family and friends at our events throughout the year.
A Culture of Professional Development
2019 was a pivotal year for AIS because we incorporated the Riordan philosophies of "Building A Quality Team." Senior-level and second-level leadership teams attended three separate training conferences in Kansas City, MO, that encouraged professional development at AIS through the leadership team.
We will continue to provide access to our team to Riordan training as this will be an important tool and curriculum as we provide the very best support to all our staff.
In 2019, we also added an online University called AIS-YOU, Your Own University which allows our team to learn and improve their skill set in various programs such as Excel, Powerpoint, Office 365 as well as soft skills. Since its inception in 2019, our team members have completed over 800 courses on AIS-YOU!
Cultivating Culture
In 2019, we launched an internal culture committee. Ten members of AIS came together to identify new initiatives to develop and implement as a team. One of the main goals of this committee is to reinforce and cultivate our culture.
The initiatives included designing and implementing a unified orientation process for all new hires, a change management process and a process for identifying career growth over the years.
Last year, we were also very honored to have attended three of the Zappos®, "All Hands" events. These events allow us to learn from such a successful culture-based organization on what it means to create and cultivate a culture that cares about each other and the community.
A lot of our culture initiatives have been influenced by the strong culture we have come to learn and know from Zappos. Let's face it, we've come to learn from the best!
Lastly, we published an AIS Culture Book, where we highlight all of our departments, our mission statement, and the AIS Culture. Our Culture Book is provided to all new hires on their first day.
We have pride in the fact that the finished book is created in-house and printed, trimmed and bound on one of our high-end Xerox® production machines. Not only is it a great token for new team members, but our customers love to see the quality of color we can achieve on a Xerox. It's a win-win!
A 2019 Concert Recap
You may not know this about me, but I am a total concert junkie, and 2019 had no shortage of them! 2020 is already proving to be an amazing year with shows like Christina Aguilera and Van Halen, as well as the Def Leppard, Motley Crue, Poison and Joan Jett stadium tour!
I'll briefly recap my favorites (in no particular order), although Def Leppard is typically the band to beat!
Kenny Loggins (Energy and storytelling): I've watched Kenny perform twice now, and not only do I think he is extremely vocally gifted, but he also incorporates a storytelling element to his show. He dives into some details about what prompted him to write some of the songs he performs throughout the evening. He truly connects with his audience and gives so much of himself when he performs.
Hall and Oates (They've still got it): Earlier in the year, I had the opportunity for the first time to watch Hall and Oates perform. To me, they are a classic act whose vocals have held up rather well. They are classy, fun, and bring all of their favorite hits to the show. Their back up band was also quite entertaining, to say the least, as they have a very talented percussionist who makes it his job to captivate your attention.
Lady Gaga (Epic): What can I say… Lady Gaga was THE show to watch! Her show, "Enigma" was quite the spectacle, and so were her fans. Some fans dressed up to some of Lady's most iconic looks, including, the Meat Dress and Poker Face ensembles. I was out of my seat the entire time enjoying the show as Lady left nothing behind in terms of energy and creativity!
Bruno Mars (Leave your cell phone at home!): When I attend concerts, one of the things I do is record some of the performance. I really enjoy going back and watching videos of the artist, and it takes me back to that time as if I was still there. Unfortunately, with Bruno Mars, all attendees were prohibited from capturing any videos or photos of the show. Bruno has a policy where cell phones are put in a pouch and basically renders your phone useless. He is strict about no cell phone usage, no cameras, no videos of any kind— so that the audience can connect with the performance. I'm not going to lie, I was very disappointed because he did put on a fantastic show and it would've been amazing to capture his talent on video to reminisce about years from now. Overall a fabulous and high energy performance.
Def Leppard (My all time favorite): 2019 was a dynamite year for my most favorite band, Def Leppard! Not only were they inducted into the Rock n Roll hall of fame, had a record-breaking 2019 tour and residency in Las Vegas, but they have announced a 2020 stadium tour with Motley Crue, Poison, and Joan Jett! Some of the dates are already SOLD OUT! I am giddy with anticipation at what this lineup will bring come concert day! Not only is Def Leppard iconic for those of us who grew up in the '80s, but their music still manages to remain timeless and makes new fans out of younger generations as well! I cannot stress enough what an incredible band they are—they hit the stage on time and give their all for the fans. A must-see show in 2020!
Aerosmith (A nostalgic performance): One of my favorite things about concerts is that exciting moment when confetti cannons unleash, celebrating the end of the show. Let me tell you, Aerosmith takes the number one prize for the most confetti, literally, ever! Of course, Steven Tyler is not too bad at 70+ years young, and he still delivers vocally! An amazing concert where the harmonica and piano sounds take me away to those special and nostalgic places in my mind. Keep that confetti going, and I can't wait to see what 2020 musical memories will be made for me to share with you next year!
So there's my recap on our company culture, committees, and concerts of 2019! Cheers to last year and all of the amazing experiences and double cheers to 2020! Bring it on! Until then, Rock on!