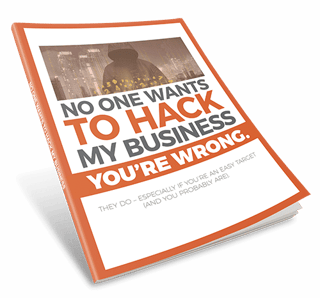 Cybercriminals have wised up and realized that there are 28 MILLION ways to make some money this year. All by redirecting their cyber attack sights from big business, with sophisticated network security, to the enterprising little guys like you, on a shoestring IT budget.
In fact, in the last year alone hackers have breached HALF of all small businesses in the US, according to the 2016 State of SMB Cybersecurity Report. If you think your small business is immune, think again. Small business is a BIG business for cybercriminals.
So we wrote an eBook for you: No One Wants to Hack My Business.
A short book – it'll take you about 10 to 15 minutes to read -- but the small amount of time invested will be worth it.
You'll understand how weak the "We're too small. What could they possibly want from our piddly little network?" argument many SMB owners use really is.
Because cybercriminals do want you.
Symantec research indicates that cybercriminals will target more businesses with ransomware because that's where the money is, "while ransomware attacks to date have been largely indiscriminate, there is evidence that attackers have a growing interest in hitting businesses with targeted attacks." Even worse, because the amounts demanded are usually small in comparison to corporate attacks, many small business owners pay and never report the breach to restore operations as quickly as possible.
And speaking of "piddly networks," that's part of the problem. If your network is easy to penetrate there's a good chance that it will be (at some point). When it is, hackers want your MONEY (or your data to hold ransom until you give them your money).
The bottom line is this:
ANYTHING with a hard drive or connection to the Internet can be hacked (mobile devices, copiers, printers, climate devices, you name it!)

If employees are bringing their own devices to work, bouncing between their home and your business networks, you are at even greater risk.

Email is a prime gateway for a small business attack though employee targeted phishing schemes (1 out of every 131 emails is a scam)

Online shops commonly linked to small businesses (and their bank accounts) are especially susceptible to fraudulent activity.

Be cautious when choosing new apps and technology to integrate into your operations - while they may seem useful, these technologies and others have all created new security holes for hackers to penetrate.
Take the 10 minutes – now – to download and read this eBook. Understand that you are a target for cybercriminals. That's the essential first step to securing your business and information.
Click on the image below to get your copy.