How Can Managed IT Services Help Me Work From Home (WFH)?
June 28th, 2020 | 4 min. read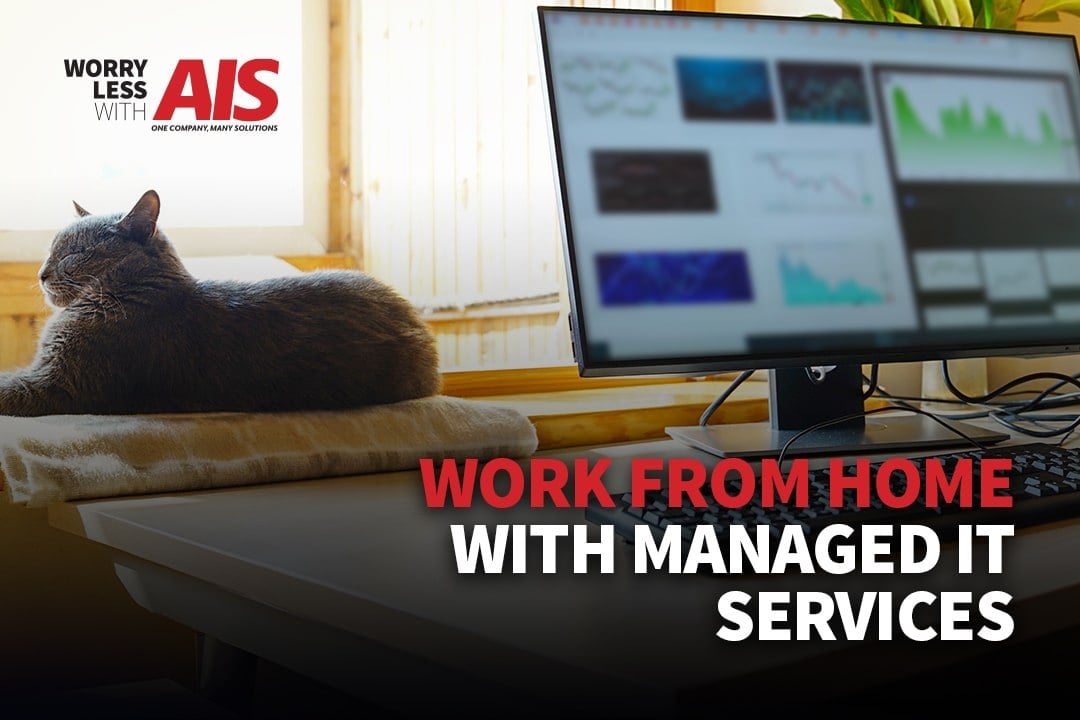 READ TIME: 4 MINS.
More employees are working from home (WFH) than ever before, and many of them expect to continue doing so, even after the pandemic subsides.
The work from home (WFH) migration has presented many businesses with technology questions and concerns that were never really a thing before COVID-19.
"What are my remote technology options?"
"How can managed IT services help me work from home?"
If you're unfamiliar with managed IT services, now is the time to learn! In a nutshell, managed IT services are a way to outsource the day-to-day management of your information technology needs. The specifics vary on the services provided by managed IT services providers.
Read more about it here, What is Managed IT Services? How to Tell If You Need Them.
Setting up your business for success includes having the right IT infrastructure in place to help your employees remain successful and productive.
Below are some of our top reasons why managed IT services can help new or current remote employees.
Working From Home Meets Information Technology


1. Increase Network Security (even from a distance.)
When remote workers connect to the company network, you have no idea how secure their home networks are. Some may even be working from guest networks: hotels, coffee shops, and other often-insecure locations.
A managed IT service provider can provide the support needed to secure your internal network against the possibility of an external attack.
They can recommend and implement features like multi-factor authentication to ensure that no one accesses your system without the proper credentials.
A qualified IT team can even help with effective cloud services and storage solutions. This type of solution allows employees to access vitally-needed records and tools while keeping your business as secure as possible.
2. Technology That Supports Remote Workers
Most managed IT providers should be experienced in connecting to a system remotely to enable them to provide support to workers.
A great IT provider can troubleshoot problems from a distance and deliver a quality solution— getting your employees back up and working again as quickly as possible.
This type of response time has become increasingly important when your employees are working remotely, and experience technology fails or malfunctions.
Having a managed IT service provider on your team is also ideal if you've made the transition to working from home of your own accord. You and your employees need the flexibility and freedom it offers.
3. Quality Advice About Equipment Your Remote Workers Need
What equipment do people really need to work from home effectively? What seems reasonable enough when you only work from home on occasion?
Many workers find that they need to create more robust home office systems once they make the transition to working from home on a full-time basis.
You may even need phone solutions, a better internet connection, or the right software. Not to mention, a useful safety protocol that protects both your home network and your business.
Partnering with a managed IT provider gives you a better idea of exactly what equipment you need for your business; including how to manage technology purchases with your current budget.
4. Quality Recommendations About Future Plans (IT Roadmapping)
Technology is always growing, adapting, and changing—and you need to grow, adapt, and change along with it. Your business can't afford to lag behind its competitors when it comes to technology--which means you need a solid plan for future IT considerations.
How long will it be before you need to upgrade computers used for remote work? Are there solutions that can make work easier, making the return on that investment well worth it?
A managed IT service provider will help you create a plan for future IT growth as well as developing a budget that allows you to prepare for those expenses. You can't afford to leave those plans to chance, especially not as an increasing percentage of the workforce moves to remote work.
By planning ahead, you can ultimately set your business up for successful growth, innovation, and customer service--all of which can fall behind when your technology isn't up to par.
5. Access To Training and Information Needed For Successful Remote Transition
Not everyone intuitively understands how to make working from home effective. Some people may struggle to make the transition, especially if they do not have the right tools at their disposal.
Employees may need specific training about how to help maintain security when they're working from a home environment, especially in a shared home.
Others may need training that will help them make their days more effective, such as time management, or how to manage specific work tasks remotely.
Your managed IT service team can work with your business to create practical training that supports each employee making the transition.
Even better, an IT expert can work with employees directly to provide them with the specific information and tools they need to productively work from home.
The Final Say on WFH Through Managed IT Services
Encouraging a remote workforce has several advantages for many companies as it can considerably cut office costs and decrease overall budgets within an organization. To make this transition effectively, however, your business needs a qualified managed IT services provider on its side.
Whether you're making the transition to work from home as an employee or you're setting your business up for future remote work, check out the Ultimate Resource for Managed IT Services to learn more about the benefits it can offer.
Mo is the resident IT go-to lady at AIS. She has traveled the world, run a marathon, is a self-proclaimed crossword champion, and can do ventriloquism. She has an uncanny memory ....down to the detail. She has completed 4 half marathons and hates running. In her free time, she likes to spend time with her 7 siblings and 20 nieces and nephews.