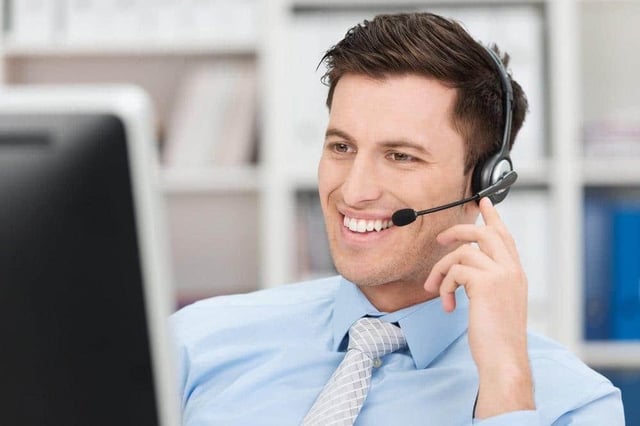 Our IT Help Desk answers the phone in two rings.
Maybe your IT guy is that responsive, but that's probably not the case because he's (or she) is one guy.
Our professionally staffed IT help desk is a room of professionals ready to answer the phone, discover what your IT issue is, and then solve it.
Our network operating center (NOC) proactively monitors your network and devices, intervening to prevent attacks, patching updates, etc. (Read about our network operating center here.)
What Can You Expect From Our Help Desk
Real help.
Seriously.
There are benefits to outsourcing (read 5 Benefits of an Outsourced Help Desk for more).
It's not your in-house IT person's fault they can't respond as quickly as a fully manned help-desk center. Even with two or three in-house staff, it's impossible for them to be immediately responsive as they troubleshoot issues throughout that day while attempting to improve and maintain your IT infrastructure.
Our help desk personnel are available from 5:00am to 5:00pm PST from Monday to Friday. Emergency and after hours support is available for an hourly fee.
Not all help desk support requests are created equal. We have a 4-tier priority system. While we strive to solve every issue as quickly as possible, we address issues that affect your business first.
Priority 1
Major impact on business defined as outage of critical platform and/or majority of work stopped. Initial response is under 20 minutes and follow up is every half hour until resolution. The goal is resolution in half a business day.
Priority 2
Medium impact on business defined as outage of critical platform but work-around exists and/or partial work stoppage. Initial response is under 30 minutes with follow ups every 4 hours. The goal is resolution in one business day.
Priority 3
Slight impact on business as defined as outage of non-mission-critical system and/or few staff affected. Initial response in under 1 hour and follow up in 1 business day. The goal is resolution in 3 business days.
Priority 4
For routine maintenance, we provide 24-hour notice and follow up upon completion.
What Issues Do We Resolve?
Software and services covered by the help desk include, but are not limited to:
PC and network troubleshooting
Desktop operating systems
Productivity software suites
Email
Browsers
3rd-party software
Administrative tasks
Virus/spyware removal
File restoration
"How do I get real help and support from an IT help desk," you ask? Help desk support is part of our IT managed services. To learn more about IT managed services, and if you might need help, download our free eBook below.