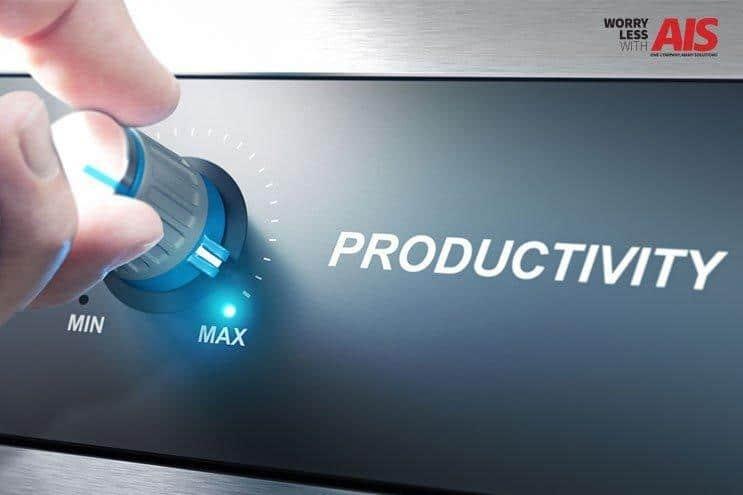 Believe it or not, there's a strong correlation between the productivity of your employees and the productivity of your small offices copier. Your business relies on your office copiers every day, and for your employees to get their projects done in time, your office copier has to be just as reliable.
Even though you may think your office multi-function printer (MFP) is performing at its best, it might not be. There are things you can do to make your small office copier an even better asset to your business, opposed to feeling like it's a burden that always seems to be malfunctioning.
Whether it be the classic paper jam or an influx of printing from one department, your office copier should be there to make your job easier. The better your office copier functions, the more your business will flourish.

So keeping productivity in mind, we're informing you of some ways to avoid stressful printing and copying situations that will help benefit you and employees. Keep in mind, the better you treat your small office copier, the better it will perform.
Here's something else to think about increasing your small offices productivity can increase your office profits. A small increase in productivity in relation to the cost of a copier may not seem profitable in the first few months of a new device, but when you consider how long an average copier's life span is you will see the benefit.
Want to know more about the average lifespan of your small office copier? Read this Chron article: How Long Does a Large Copier Last?

Small Office Copier Productivity: Simple Steps You Can Take


Paper Jams

You probably aren't surprised to read that paper jams are still the most common reason why offices printers malfunction. Once a paper jam occurs, and after you've attempted to solve the problem, you probably will then make a service call to your small office copy machine provider.

You may, however, be surprised to learn the service calls you're making are likely avoidable! Even a simple thing like storing your copy paper in a better place can prevent a paper jam from also occurring.

If you think about it, paper jams are kind of similar to fender benders you see while driving. It seems that everyone has to stop and look, causing even more traffic.

Well, that's kind of the same with a paper jam. The second the copy machine is down, half your office strolls over to see if they can help asses it. So before you know it, those employees have now wasted productivity time out of their workday.

We recently published, How To Fix a Paper Jam in a Copier: Repair, Prevention, & Tips. This article is an excellent resource for you if you're interested in learning more in-depth about your copy machine paper jams.


Spool Documents

Have you ever heard of the copy machine feature, called spooling? Printers have a limited amount of memory, and usually, the memory is a lot smaller than the size of the document or report you are printing.

Printer spooling permits you to send large documents to your printer without having to wait for it to finish printing before continuing to your next task. While your documents are waiting in line for printing, you can continue to work on your computer because all of the print functions are handled in the background by the spooler.

Most small business copiers and printers have the option to spool documents, which means the documents are placed in a queue and processed in an orderly fashion. This feature may not be active by default, and even if it is, users can override it by manually forcing a job. So be sure to see if this feature is enabled and your staff is using it.

The benefits of spooling allow you to multi-task and To avoid manual control that can take up a lot of productivity time. Encourage employees to use spooling when they are printing large or multiple documents.


Prioritize Your Company's Printing Projects

In general, you and your team probably prioritize your tasks according to the urgency of the project and length of time it will take to complete them. Why not do the same thing for your print jobs?

Your small office copier can most likely rank or prioritize each employees print projects. Make sure that each employee selects their tasks on low priority (this should be the default.) If the machine has nothing but jobs with low priorities in the queue, it'll process them in a first come, first serve manner.

Employees will also have the option of setting a medium or high priority on their print projects, which increases productivity considerably when a print job is urgent. So don't think you always have to print on low priority.


Business copiers also provide statistics that let you see who's using the right to prioritize and if they are prioritizing their projects too frequently.


Assign the Copier to an Office Position

A common mistake offices tend to make is they don't have one specific person in charge of their office equipment or copy machines. This can present significant issues as your office copier needs to be adequately maintained and inspected by someone who is familiar with it.

Think about it like this: You just purchased a new car for your family, and it is now your responsibility to make sure the car continues to run and perform whenever it is needed. Since you are the one who takes care of it, cleans it, and takes it to the shop for routine maintenance, you are the one most familiar with that car compared to anyone else in your family.

If there's an issue with the car, you are the designated person to get it back up and running as you are the one who knows the most about it. You'll be able to assess it better than your other family members, making the issue more accessible to tackle.

This is kind of the same thing with your small office copier. Having one designated person who cleans the machine, fills the paper trays, and schedules service calls know the best way to take care of your office copier.

This significantly increases productivity at your business. When you have just one person dedicated to the well-being of your office copier, it eliminates other employees from wasting their time throughout the day fixing or monitoring the machine.

If you'd like to learn more about caring for your small office copiers, take a look at the article we published on Caring For Your Office Printers and Copiers.



Upgrade Hardware

One other way that businesses can better manage their productivity is by upgrading their hardware. Most office copiers are upgradable either directly through the machine or by upgrading the network.

If you're experiencing slow performance in your small office copiers or downtime due to congestion, you can often overcome these issues. By upgrading locally to a larger onboard hard drive or network card, or by upgrading the network with a better processor or additional memory, you can speed up the time it takes to get your printing and copying projects completed.

If you are unsure how to do so, reach out to your service provider. They should have the answers to help you do so or be able to schedule an appointment for a service technician to do so for you.


We hope that these tips have expanded your knowledge on how to increase office copier productivity at your business. Maybe some of these ideas will work better than others, but all in all, they will help your business better manage its projects in a more organized and practical way. At AIS, we are here to take your company to the next level. To do so, we dedicate ourselves to helping your business become more productive throughout the day while also making smart decisions when it comes to what you're printing, and how you're printing it. We vow to continue providing you with products and knowledge that give you peace of mind to help your company win more business.