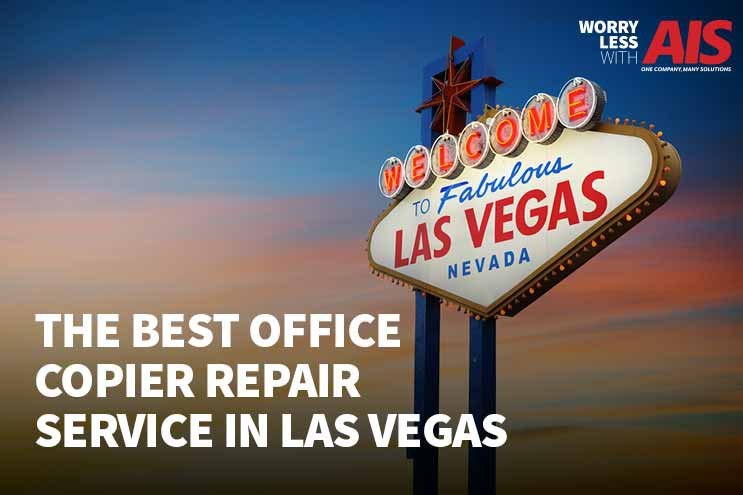 Did your office copier break again and you're now left to find the best office copier repair service in Las Vegas? We feel your frustration and as annoying as is it, it's inevitable that your copy machine is going to break. It's only a matter of time.
First things first, what kind of "break" is your office copier experiencing? Is it a paper jam? Network issues? It simply won't turn on? Is it a catastrophic breakdown or a simple repair?
Before you decide which office copier repair company is best for you, you've got to do a little assessment of the issue.
If you aren't sure how to recognize your office copier issue when it first occurs, you'll want to read our article, The 5 Most Common Copier Problems and How to Avoid Them. This article gives you useful insight into diagnosing and identifying the problem.
Before finding the best office copier repair service in Las Vegas, you might be asking yourself:
What factors make the best office copier repair service in Las Vegas?
Do I need a brand new office copier or just an expert who can fix my issues?
Will I be trapped in another contract if I decide to partner with a new office technology services company?
It's normal to ask yourself these questions, and with those questions, come these points you should also consider:
Your Preferences: Are you interested in a copy machine repair company closely located to your business?
Your Standards: Are you adamant about receiving excellent customer service?
Your Time: Does the repair company fix your issue within one visit of them coming out to your business?
Your preferences, standards, and time are all points of consideration you have the right to learn about when it comes to the best office copier repair services. Remember, you deserve great professional service and qualified experts.
We put together some great tips for you to look over as you're choosing the best office copier repair service in Las Vegas. Stick around!
The Manufacturer Vs. A Local Authorized Dealer: Which is Better?
Choosing a manufacturer is an excellent option if you aren't too worried about time or money. A manufacturer is a direct source to go to since they are one of the most knowledgeable sources for your black and white or color copiers. Manufacturers typically troubleshoot or run quick diagnostic tests of your office copier, find the right parts, and promptly fix your machine.
However, there are a few things you should look out for when going to the manufacturer. Sometimes, the manufacturer hires a third-party repair company that is responsible for all of their office copy machine repairs that cover a specific location or territory.
This option could be more economical for their business, but if they aren't watching the service performance of the third party or closely monitoring customer feedback, this can quickly become a problem.
If you've purchased a low-end copy machine model, or you're not a regular customer, you may be considered a "small fish" to the repair company and may not get the attention you need and deserve.
A local authorized dealer almost always focuses on customer service and support, because this is what feeds their business and keeps it running. Local authorized dealers usually have great relationships with copy machine manufacturers, so they typically have an inventory of parts.
The staff of local authorized dealers is well trained on a range of devices, so the repairs are usually quick and effective; getting your copy machine back up and running in no time.
Another great thing about a local authorized dealer is the requirements they must meet that deems them qualified to work on your office copier. These requirements could be things such as purchasing volumes, support resources, training requirements, and customer service levels.
Make sure you research your location or area to see all the authorized dealers for your specific equipment and copy machine models.
Are you wondering which office copier is best for your business needs? Read our article, How to Choose the Best Office Copier For Your Business.
Office Copier and Printer Repair Businesses
Office copier and printer repair businesses usually fix many types of office equipment. They're also typically quick to serve you and are great at many simple repairs.
Most of the time, these businesses have general knowledge of many different types of office equipment but are not experts on each specific device or model. However, as you know, knowledge matters.
Another item to consider is that copier and printer repair businesses have to go back to the manufacturer to order parts, which can take more time and cost you more money than the other options for repair or service.
Local Authorized Copier Dealers in Las Vegas
We believe in options. The more options you have, the better purchasing decisions you'll make. For this reason, we're happy to give you some great options (besides us) of local authorized office copier dealers in Las Vegas.
A-1 Office Solutions: A-1 Office Solutions provides copiers, printers, MFPs (multi-function printers), scanners, fax machines and shredders in the Las Vegas market and represent the Copystar and Xerox brands.
Alternative Office Systems (Office1): Office1 has been in Las Vegas since 1982. They are locally owned, operated, and recently changed their name to Office1. They provide copiers, printers and other IT services.
Las Vegas Copiers, Inc.: Las Vegas Copiers is a locally owned and operated business. They represent brands such as Canon, Xerox, HP Sharp, and Copystar. They provide copier products, services, multifunction printers, and shredders to the local market.

Les Olson Company: A Utah based company, and now has an office in Las Vegas. They represent Sharp copiers and HP printers and copiers.


So how do you choose the best office copier in the Las Vegas market? Do your homework. Our customers at AIS have done just that. They ask questions about price and the customers and machines we service.
This is your money, and you have the right to get the answers you need from each and every repair services company you're considering. Don't be afraid to ask tough questions like:
Response Time. What's the average time it took to respond to your customers last year? How accessible is your technical support staff? How many different ways can you reach your support team when you have a problem?

Chron published an article you might find interesting on the importance of response times, The Importance of Response Time in the Service Industry.
Qualifications. How many technicians do you have to service your market and how skilled are they? How many certifications does each of them hold? This is important in making sure you have experts qualified on your equipment.
Parts. How much inventory does each of your service technicians carry on their vehicle at any given time? Will they need to make multiple trips to the warehouse to get the right part?
Reviews. Do you support other customers in your same industry? If so, how have you helped them? (Ask for some references–your competitors may not want you to know how good their copier company is.)
Customer Service and Technology. What other technology do you use to ensure you are providing the highest levels of customer service? What is your business reinvesting to support growth over the next five years? (5 years is the average length of a copier lease and or service contract.)
NPS. What is your Net Promoter Score (NPS)? (A NPS is how likely your customers are willing to refer you as a company.) This is an important metric that determines if their customers are really happy with their service relationship.
By taking the time and doing your research, you'll not only get competitive pricing on your next office, but you'll find the best copier company in the Las Vegas, NV market to support your business.


As you can tell, there's a lot that goes into determining the cost of business technology solutions. To learn more about costs and pricing associated, check out our Office Copy Machine Ultimate Resource Page.
At AIS, we strive to answer the questions that not just our current customers are asking, but our prospective customers are asking as well. Our goal is to equip you with the newest and most helpful information when it comes to your office solutions and business technology systems, based on your business needs and goals. If you're interested in learning more about office technology, reach out to one of our business technology consultants, here. We're here to give you peace of mind, to help you win more business.