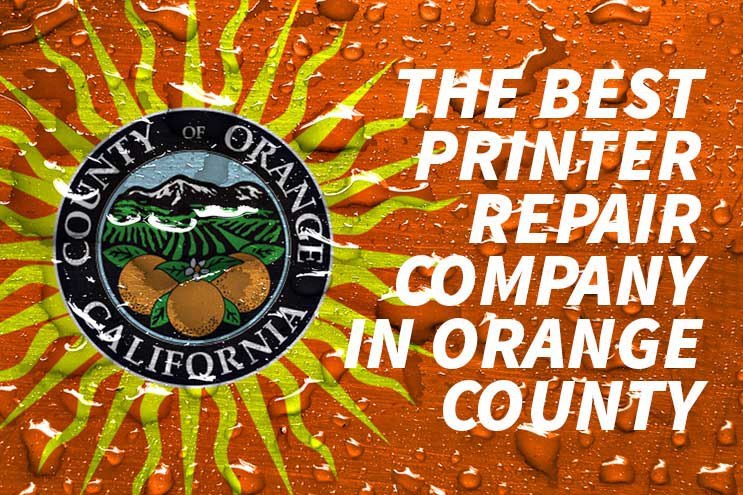 One of your printers just broke. Your office is in Corona, California. You tried to fix it yourself with a YouTube video, but it's a bigger problem than you thought. So how do you decide on the best printer repair company in Corona? Your first decision is whether or not it makes sense to repair it.
You have three choices: buy a new one, call the manufacturer (which is probably in another metropolitan city), or repair it.
The first two are pretty good choices—or are they? Let's break this down, one at a time. First of all, let's look at why you may have some difficult choices.
1. Should I Just Buy a New Replacement Printer?
Before answering this question, let's answer some other questions first:
What was the original cost of your printer?
What will it cost to repair it?
How long will it be out of service if you decide to repair it?
Where did you buy it (online, retailer, authorized dealer)?
Is it time for an upgrade (do you need it to do more)?
Have you budgeted for this in your business?
What's the cost of the new replacement printer going to be?
So by answering these questions, you will get further along in your decision-making process. Just make sure that when you get the answers that you don't jump to any conclusions and go out and buy the first printer you see on sale at your favorite retailer. Why? Well, one of the most important questions you should answer is the last one on our list, but it isn't that simple. We actually created an entire article: Laser Printer Repair vs. Purchasing a New Printer discussing why discount laser printers at "big box" retailers may not be such a good deal.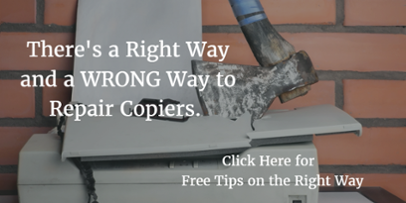 2. Contact the Printer's Manufacturer
It may be a simple issue that your printer's manufacturer's support team can help you fix over the phone. If not, then this could be a longer process. Contacting your printer's manufacturer could be a great solution if you have the time, your printer is still under warranty, or you have other printers in your business that can pick up the slack while your printer is being fixed by the manufacturer. Here are some things that you should consider if you choose to go this route.
Contacting Support: When contacting support don't forget to have your receipt handy or the location you purchased it, the date, and serial number of the device.
Returning Your Printer: They will be providing you an RMA (Return Material Authorization) number. This is a very important number and they'll most likely want you to write it on the outside of your shipment.
Shipping Costs: In some cases, you will have to pay for shipping. Find this out up front. This is going to be important if you want to know if this is worth shipping it back to them to fix.
Packaging: You are going to have to figure out a way to ship it to the manufacturer without damaging it. Just putting it in a box won't do the trick. Printers are like PCs. They have electronic parts and are fragile.
Insurance: If this is a costly printer, you may want to purchase insurance for the shipment.
Time to Repair: In some cases, you will be without your printer for the time in transit to and from the manufacturer plus the time it will take to repair. This can take up to 6-8 weeks.
These are all important considerations when deciding to contact the Printer's manufacturer to repair your device.
3. Contact a Local Printer Repair Company
Although this is your last option, this could be one of your best options. There are many local authorized resellers and dealers in your area that can provide printer repair and sometimes even warranty work. These businesses not only sell new and refurbished printers but also have technical service staff that can provide repairs. Some of them even do house calls. Some questions you should be ready to ask:
What printers are they approved to work on?
Is their staff authorized and trained to work on your specific brand and model of printer?
How much experience do they have with your printer model?
Do they perform on-site repairs?
What's the cost of a visit and repair work? It's usually by the hour and doesn't include parts.
How soon can they get someone to work on your device?
Do they have any business references?
If you find that you are going to repair your printer with an authorized dealer, then you are going to want to know how to identify which business is the best printer repair company.
Corona is in the heart of Orange County, California so if you are looking for the best printer repair company, you are going to have to do some homework. Why? Because there are so many to choose from.
Corona is a relatively small city, but when you look at where it's located, it sits between San Diego to the south, Los Angeles to the north, and San Bernardino to the east. Southern California has many different options for printer repair companies, so we decided to provide you a few of them.
The 5 Best Printer Repair Companies in Corona
Below is a list of the top 5 printer repair companies supporting Corona, Orange County, and the Inland Empire of Southern California.
ABC Office Systems:
ABC Office Systems has been in business since 1999 and provides fax, copier, and printer repair for most makes and models. They sell Canon wide format plotters and Okidata printers and MFPs. They provide copier and printer repair for most makes and models.
Image Copy Solutions:
They have been providing sales, service, and supplies for copiers, printers, and scanners in the Inland Empire for the last 14 years. They are located in Chino and specialize in Canon, HP, and Ricoh office equipment.
LPS - Laser Printer Services:
LPS provides licensed Hewlett Packard printer and large format plotter printer repairs in Los Angeles and Orange County for over 26 years. They make on-site service calls and also sells refurbished HP printers and plotters.
OnSite Printer Services:
OnSite provides HP certified repair for HP printers and plotters. They also perform repair work for Lexmark and a few other makes and models of copiers and printers in Los Angeles, Orange, San Bernardino, Riverside, and Ventura Counties. They guarantee a callback.
Vital Document Solutions:
Vital has been in business selling and repairing copiers for the last eight years. They guarantee service within 1-3 hours in Los Angeles, Orange, Riverside, and San Bernardino Counties. They specialize in providing service and repair for all Konica Minolta copiers and printers.
What Should You Do Next?
We've provided you five companies to consider if you're looking for a printer repair service in Corona, Orange, Riverside and/or San Bernardino Counties.
Here are some additional resources that may help you with your next printer repair:
If the cost to repair your printer is going to be too high and you can justify buying or leasing a new printer, check out our posts on:
Oh, and once you think you've found a good printer repair service, don't forget to check out their Better Business Bureau (BBB) rating. Each reputable business should have a good one.
At AIS, we take our service and repair business very seriously and, in fact, have a great BBB rating. Don't take our word for it, just compare our service team's performance with the following against our competition:
Number of service calls we performed last year
How many clients we had up and running in one hour or less
How many clients we had up and running in two hours or less
Average response time
Percentage of first call resolutions
Number of certifications each of our technical service team members hold
If we come out on top, please contact us with a follow-up conversation so we can show you how office technology can give you peace of mind and help you win more business.