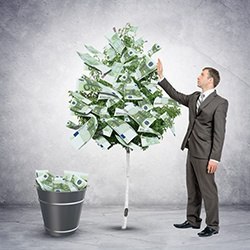 Going green. Who cares, right? You've got payroll to make and want to grow your business. It's hard enough to do that without worrying about environmental sustainability.
Here's the thing – this isn't an either/or proposition. Your business can be more environmentally friendly AND save money. To paraphrase Kermit the Frog, "it's easy being green."
The low-hanging fruit for going green is to reduce (some companies can even eliminate) paper use in their offices. A few weeks ago, I wrote about how print rules could help you save money by printing less. (Missed that one? Read Stop Throwing Money Away: Control Print Costs With Print Rules here).
I wanted to revisit the idea of using less paper today, from two perspectives. First, why less paper in your office is a good thing. Secondly, a few suggestions for using copiers, and document management software, to become paperless (or at least "paper-less").
Benefits of Going Paper-Less
There are many benefits of digitizing information. Here are a few of the top ones.
Faster Access to Information. Instead of desktops piled high with paper, filing cabinets (or file rooms), and the one-by-one access to the paper document (unless you make copies – which can be an issue if the information on a document needs to remain private) for only one person to be able to access a document at a time. Information online (in the cloud, in a document repository, in a shared drive – anywhere not in a manila folder in a filing cabinet) is easier to find than paper-based information.
Anywhere, Anytime Access. OK, so you could take a paper file with you on the road, but it's a lot easier to access that information with your laptop or smart phone. Digitizing information gives you the option to make it available via various networks.
Less Lost Information. Estimates from a PricewaterhouseCoopers' report once estimated that 11% of paper documents are either lost or misfiled. Would you rather your employees looking for documents that aren't even there or actually doing their jobs?
Disaster Recovery Is Easier. Recovery from a digital backup is a lot faster and more effective than from paper. After all, fire and water are NOT kind to paper.
Save Money. Here's the green that most business leaders are interested in. Less printing. Less mailing. Depending on how much paper you have, you could even pay less rent (or storage fees) by decreasing reliance on paper.
It's Good for the Environment. Using less paper does mean you're not using as many trees to run your business. Plus, you're helping decrease the energy used to make paper – shipping trees and then the paper, plus have you ever smelled a paper mill? (it's not pleasant).
Using Business Copiers and Document Management to Go Green
I want to be really clear about this: the implementation of document management in tandem with document imaging can become quite complex – there are many considerations and ways to implement a system. That said, the concept is very simple – take a piece of paper (or even a digital document, see, complicated), capture it with a scanning device (and software), and store it to a document repository for later retrieval. Many document management implementations are simple and straightforward; I just don't want you to assume that's always the case. That said, here are a few ways to start.
Scan With Your Copier. Your copier isn't just a print and copy powerhouse, it can also scan and route documents. Get in the habit of scanning documents and storing them into a shared drive or document management repository.
Use Digital Workflow. Many copiers have embedded apps that can be set up to create simple workflows to send documents to email, to the cloud for storage, or even to kick off a business workflow – to pay an invoice, for example.
Digital File Cabinets. Think of document management software as a digital filing cabinet that uses less space and provides near-instant access to information.
Print Rules. I mentioned the print rules post earlier. Create and enforce rules (default to double-sided printing) to save both trees and your bank account.
General Green Tips
I'll end with a few general thoughts on going green. Here are a few other overlooked things everyone can do to be at least a little greener.
Turn Off the Lights – I don't know about you, but a constant refrain from my parents was "Who left the light on?" Usually followed by some sort of grumbling about wasting electricity. At the risk of sounding like my Dad, turn the lights off. If not every time you leave a room, then at least in the evenings and on weekends. It really does make a difference to your electric bill.
Energy Star. Look for Energy Star-certified office equipment (most are). Electronic devices with this certification do draw less energy than those not certified.
Recycle Your Copiers and Printers. Many of the components in these devices are plastic – which use oil to make and can take 1,000 years to decompose if tossed into a landfill.
I hope this post has made you think at least a little differently about the benefits of moving your business in an environmentally sustainable direction.
Obviously, we're happy to talk with you about how your business can effectively use copiers to support your business goals – green or otherwise.
Obviously, we're happy to talk with you about how your business can effectively use copiers to support your business goals – green or otherwise. We are also Kyocera Managed Document Services partners, a simple to use and implement document management tool.
Now don't forget to turn those lights off!