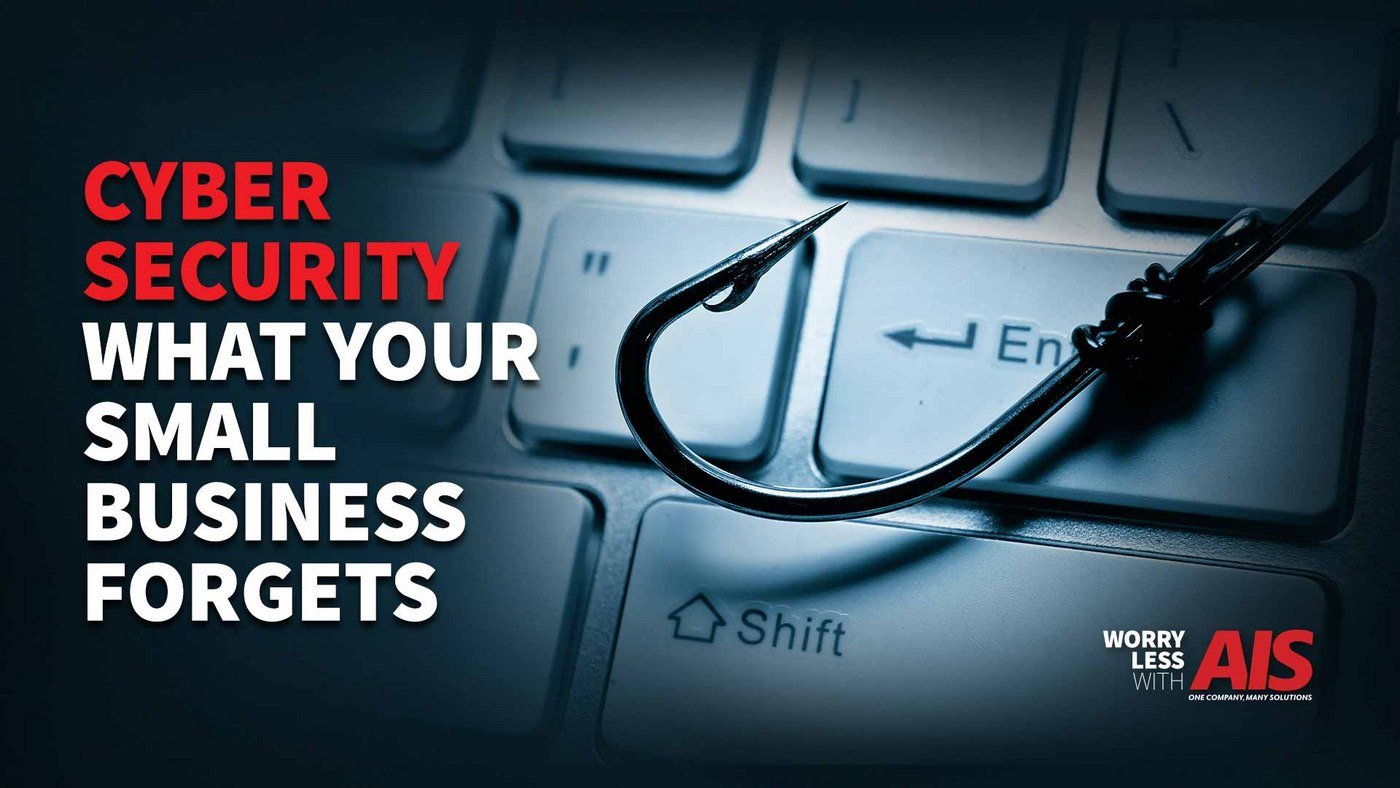 Along with many other things the month of October brings, it's also National Cyber Security Awareness Month (NCSAM). We live in an extremely vulnerable time, and I'm not just talking about the horrible COVID-19 pandemic that has turned our world upside down.
Unfortunately, cyber security is an issue that is always on our radar—and the novel Coronavirus only made our employees and businesses more exposed in terms of cyberattacks.
We feel it's imperative that during cyber security month, we tell you five things most small businesses (SMBs) forget when it comes to cyber crimes.
Your business has likely faced unexpected challenges this year, and a cyber attack within your organization is one you want to stray far away from.
We've been in the office technology space for almost 20 years and have seen devastating cyberattacks against some of our closest business partners and customers. These types of disasters are why we are so invested in educating you about the best practices you can immediately start implementing within your business.
If cybersecurity is something unfamiliar or new to you, make sure to reach out to us. We'll walk you through step-by-step on how to keep your business, employees, and customers safe.
Related: Security Compliance: How A Managed IT Services Provider Keeps Your Business Safe.
Cyber Security Month and Preventing Cyber Threats: What Is Your Business Forgetting?
Our technology continues to evolve rapidly—and for most of us, it's hard to keep up. It seems like the second we get a grasp on a new concept or product, something bigger and better hits the market.
As we experience difficulties when trying to stay ahead of new technology, sadly, it becomes more accessible for cybercriminals to hack into our networks and computer systems, causing unsolicited attacks and scams within our organization.
It's time to learn the safety protocols you forget to take and how you and your employees can do a better job keeping a safe and secure network.
1. Phishing Scams Through Email
Have you ever heard of phishing scams? Phishing is the fraudulent practice of sending emails claiming to be sent from a reputable person or company. Meaning, a hacker could send you a message to your work email address claiming to be one of your employees or someone you frequently communicate with.
These emails are made to provoke you to reveal business and personal information, such as passwords, employee data, company credentials, or even credit card numbers.
Phishing emails are a lot more common than most of us give credit to, which is why it's one of the more common ways a cybercriminal can gain access your data.
So, how can you prevent or avoid these types of cyber threats? Make sure you and your employees are reading all emails in detail, not just ones that "seem" shady.
Some emails you receive might include a link for you to click on or request a response back from the sender. Regardless of what the email says, if you have a bad feeling about it, don't click any links, open any attachments, or respond to the sender. Your best bet is to forward it to your IT team so they can take a further look.
2. Malware and Ransomware Through A Virus
Another common technology threat to a business can be transmitted through a computer virus or malicious software. These viruses' typically come through an employee's email but can also be downloaded from the Internet in the form of ransomware or malware.
Without a strong anti-virus strategy with continuous updates, you could cripple your business at a high price.
Remote work can also increase the chances of data loss due to malware or ransomware attacks. When so many of us are working from home (WFH), anti-virus solutions are a must.
When your team members aren't all using the same wireless or computer networks, they may encounter more threats that have the potential to compromise their data. Maintaining a robust backup system means not having to worry about your data—it's safe and secure if anything does happen to it.
3. Password Management
Password management is one of the most common security practices that we all overlook but is one of the most straightforward measures to take to keep your systems safe.
Have you ever heard of multi-factor authentication? Multi-factor authentication plays a massive role in eliminating security breaches due to lost, stolen, or weak passwords. You may be practicing this type of authentication without even knowing it.
Do you ever type your password and then prompted further to confirm another piece of sensitive information, such as your phone number or email address? With multi-factor authentication, you provide and verify your identity in at least one other way besides your password.
Utilizing an extra security feature like this is such a helpful way to ensure your company's sensitive data is secure, especially as so many of your employees are working remotely on potentially unprotected networks.
If a cybercriminal attempts to hack your system, their unauthorized access will be denied if multi-factor authentication is in place. A user can only obtain access if they know all the passcodes, plain and simple.
Learn more about password management by reading our blog, Best Practices in Cyber Security When Working From Home.
4. Employee Training
How are you equipping your employees with the knowledge they need so they can not only spot a cyber threat when it's presented but also ways they can prevent it from occurring in the first place?
If you have yet to enroll in cybersecurity training for your employees, this is your sign to do so. Your employees are the ones connected to all of your devices and networks—they're the front line of defense against cybercriminals.
Every person at your organization should become well-versed in cybersecurity best practices and the steps to take if a problem comes up.
5. Proactive Maintenance and Management
You've got a lot on your plate, and it's challenging to manage your business's computer security on top of all your other tasks. This is when a managed IT services team comes in handy.
Your in-house IT guy may seem bombarded with other technical issues or might not know how to manage the safety of all of your networks properly. Not to mention, is he able to proactively monitor all of your systems? Is he looking out for network security threats before they have the potential to do damage?
Partnering with an IT services team, like AIS, takes the stress of business safety off of your plate. And, if the IT team you partner with is experienced and qualified, they'll offer you proactive maintenance and monitoring.
Proactive management of your network allows preventative maintenance on all your equipment and your entire and critical infrastructure. Learn more about it here, Top 5 Benefits of Managed IT Services.
The Final Say: What Your Small Business Should Do To Prevent Cyber Threats
In all honesty, I barely scratched the surface of common protocols your small business may forget when trying to protect the safety and security of your network. However, use this article as a starting point that leads you to learn even more about specific solutions your organization needs to keep hackers out.
The cybersecurity of your business is in your hands. You have tons of tools and resources to help you and your employees promote a healthy and safe cyber network.
AIS is an office technology solutions company, designed to educate and inform our readers and customers. We care about the growth of your business and are here to help guide you as you grow. To learn more about cybersecurity best practices, managed IT services, or the other products we offer, reach out to us today. We're here to give you peace of mind to help you win more business.