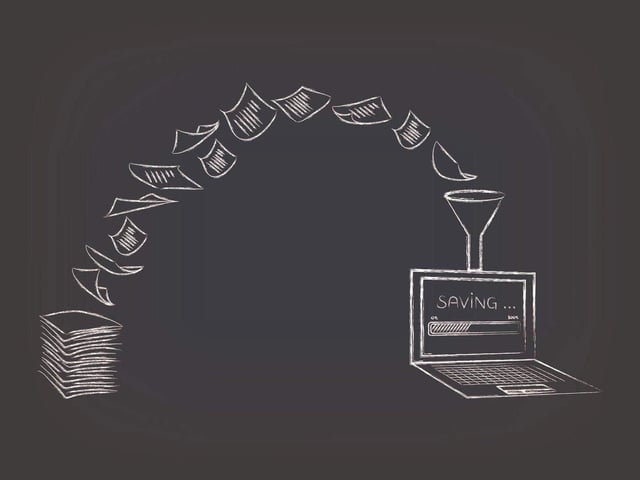 We get it. Deciding what to invest in to best grow your business is hard. Especially when it comes to information technology.
A decade ago, we were excitedly banging out texts on our flip phones, pressing the "1" button three times to type a "c." Today, you can pull up a keyboard on your screen and type quickly – not to mention manage your finances, collaborate on documents, attend meetings, have a video chat, draw, make and edit video, and share this with anyone via email, social media, or your business' productivity software.
In that decade, the cloud has moved from curiosity to a core way to provision your IT resources. Security threats have escalated – ransomware to name one threat. Big data has gotten bigger. Artificial intelligence is pushing into everyday life. Document capture technology continues to improve. Digital copiers include more features, connect to apps, and can serve as hubs of document productivity. Voice over IP for business phones is even more mature and provides disaster recovery benefits over traditional PBX-based systems. These are just a very few things. Overall, IT has become better, faster, cheaper. A decade from today I'll go out on a limb and predict we'll be able to say the same thing.
Then there's the question of should you do all of this yourself, some of it, our outsource as much as you can to an IT managed service partner?
IT changes fast. That said, there are a few constants:
You need to secure your networks and business information – both documents and data.
The easier and faster you and your employees can access and work on information and documents, the more productive you will be.
You need to manage business documents to plan the future of your business, communicate with customers (if you're in insurance, your entire business is built on documents), and, of course, invoice customers to keep cash coming in.
Digital copiers – with document management and capture tools – work together to help you meet each of those constant needs.


Fake Digitization
How many of you have the latest phones, laptops, and use apps daily and yet continue to rely on paper documents for business?
Having documents and information easily accessible digitally isn't a nice to have in the future; it's a must have.
How annoyed do you get when you call a business and their customer service can't answer your question immediately? Can you answer your customer's questions? How much more effectively could you serve patients with access to digital patient records? E-filing for court cases is legal – are you still using couriers to file client casework?
Research from Xerox shows that 55% of organizations surveyed are mostly or entirely paper-based across at least half of their business processes. A much smaller percentage – 10% – is digitized across the board.


Most Want to Digitize
Most companies have identified processes to digitize – 71%. Drivers of digitization are what I've already mentioned – high cost and information/document security. The top 4 benefits are:
Cost reduction
Agility – the ability to respond to customers faster and act on information more quickly
Information/document security
Speed of productivity/service


The Knowledge Gap
Digitization is a great idea. Rushing to digitize and throwing technology at a problem you don't entirely understand – NOT a great idea.
Only half (45%) of companies are using tools to analyze employee print habits even though 90% say they have the tools to do so.
To ensure you provide the most productive and cost-effective solution, you need to understand how employees in your business are using documents, what they print, and why.
This is why we begin many of our office equipment engagements with a print assessment. This gives us an idea of who is printing documents, are there areas of heavy print volume, amount of color documents, etc. After an initial assessment, we then continue to identify areas of improvement for the customer as we fine-tune the data.
If you have a digital copier in your office, you have at least one tool that you need to digitize your office.


So take a look around your office. How much paper is there? Are you only talking the digital talk? Next week, I'll share ideas for how you can walk the digital walk.
All statistics from Xerox's Digitization at work whitepaper.