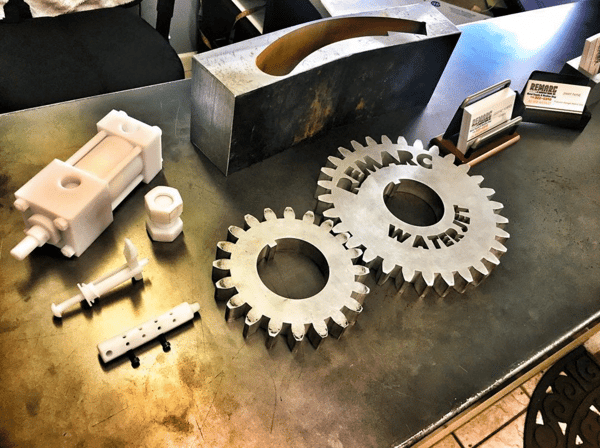 All of us at AIS love it when a customer, new or old, loves the products and services we deliver.
Remarc Mfg is a new customer and they're so excited about their recent purchase that they've been sharing their results on Instagram. One of their services is helping their customers in production development. They're looking forward to the possibilities the Projet 2500 from 3D Systems has for them.
We've been excited to help them out as well. I've been out to visit them, as have our resident 3D experts, to help them configure the technology to their clients. They decided they could buy a piece of equipment from anyone, but they went with us because of our 3D printing knowledge. Our office (and one of our 3D printing experts) is in Reno, close enough to their offices to provide onsite support if needed.
The Need for 3D Printing
Remarc already offered the ability to create parts and part prototypes for customers with CNC and waterjet technology (these machines create parts by cutting away material – metal, wood, plastic, etc. – to make a part).
They wanted the additional ability to create functional, working prototypes at finished quality. That's why they bought the 3D Systems Projet 2500 from us.
When buying a 3D printer for the first time, there are a wide variety of options. Remarc chose the Projet 2500 over a number of "cheaper" printers because it's a complete system. In my view, it's the most complete 3D printer and the lowest barrier to entry for a professional grade 3D printer. While we don't give away exact pricing, the pricing "neighborhood" is plus/minus $40,000. Yes, of course you can find less expensive options, but the requirements to print a Christmas ornament aren't quite as extensive as those needed to 3D print a working prototype for a manufacturing environment.